Local club dominate Bewl Water half marathon and Fuller's Towpath 10
Related Links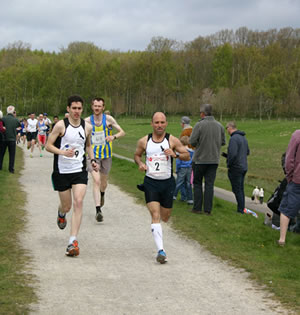 Sergio and Rachid at Bewl Water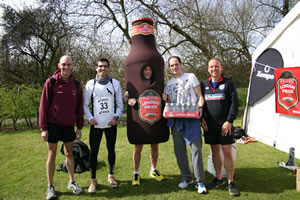 Towpath 10 winning team collecting their prize
Participate
Sign up for our free newsletter
Comment on this story on the
There was an Ealing Eagles one-two at the Bewl Water half marathon in Kent on May 5.
Sergio Martinez-Gonzalez took the honours in 1:25.33, just 76 seconds ahead of team-mate Rachid Afouzar, to win his first race in UK athletics.
The victory was made all the more remarkable by the fact that for much of the race he'd guided Afouzar, who has suffered balance problems since being seriously injured when hit by a bus last year.
"I felt really pleased with it as this is my first win and I didn't expect it," said 27-year-old Martinez-Gonzalez, who had only decided to enter the race the day before.
"I preferred to do it alongside somebody. Rachid told me to go faster if I wanted to but from mile four we were alone so we decided to run together until the last miles. Also, I could help him dealing with his balance. Some downhills were quite steep, in other places there were steps, narrow sections and corners. It was the right choice to do it together."
They weren't the only Eagles on the podium, with Jose Manuel Pabon coming home third over the full marathon distance, clocking 3:07.35.
It marked a great start to the summer for the club, coming just a few weeks after the Eagles won their first ever team prize.
Pabon was part of the four-man team which won at the Fuller's Towpath 10 race. His fourth place in the event, hosted by Chiswick-based West 4 Harriers, was backed up by Tom Rowles (5th), Dave Chryssides (21st) and Marc Woodcock (61st).
"I had no idea we were in with a shout at winning the team prize. It was great to win and this was my first 'silverware' as an athlete," said Chryssides.
And Pabon, who clocked 58.55 over the 10 miles, added: "It wasn't only our first team trophy, but it also proves how much the runners of our club are improving.
"We've recently started showing real potential and should now start being taken seriously."

May 14, 2013