HRH Duke of Kent spends time finding about the activities at the Farm
HRH The Duke of Kent has been given a tour of Horsenden Farm to see the work of the many volunteers.
It was a proud day for the Friends of Horsenden Hill, Ealing Ranger Jon Staples, the Gurkha veterans of Ealing and the many groups that contribute to the lively, productive working environment at Horsenden Farm.
His Royal Highness was accompanied by Richard Kornicki CBE DL, Representative Deputy Lieutenant for the London Borough of Ealing, and Patron of the Friends of Horsenden Hill.
Lynda O'Hare, Chair of the Friends, Ealing Ranger Jon Staples and Major Chandru Rai of the Gurkha veterans group welcomed The Duke and led a tour of the farm where the party saw the productive vegetable gardens which have been revived and are tended by many Gurkha veterans and families brought together by Neighbourly Care, and by members of Mind Food which runs nature-based gardening courses that support people to manage and improve their mental well-being.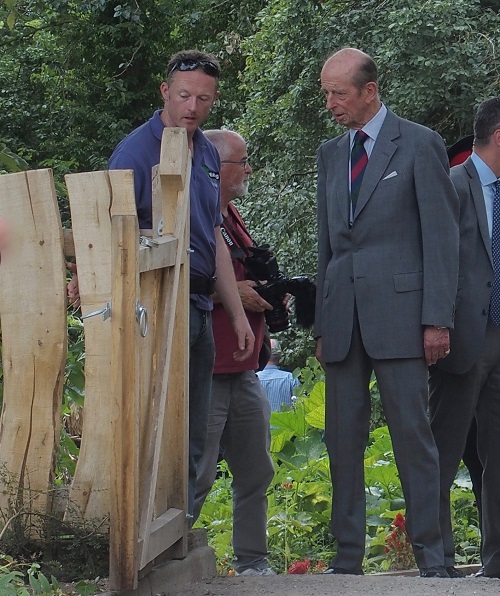 ( pic credit David Harvey)
Zain Sayed, a former student of Belvue School, whose students are also regular volunteers on the farm, spoke about the challenges he has faced as a person with learning difficulties faces when trying to find employment, and how his experience of volunteering at the farm has given him the practical experience, confidence and skills to find work. Zain has been employed for a year and a half now but still finds time to volunteer.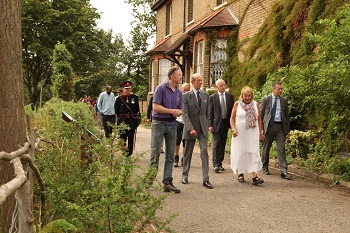 ( pic credit Steve Haskett)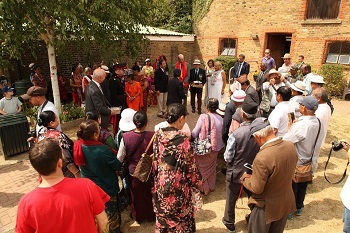 ( pic credit Steve Haskett)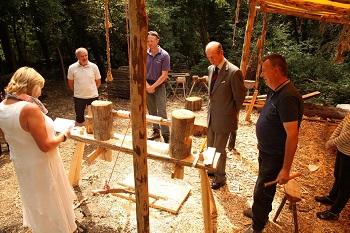 ( pic credit Steve Haskett)
The Royal party visited the Woodland Workshop where they watched a demonstration of green woodworking using traditional methods such as pole lathing and milling. Thomas Bickerdike, a local carpentry and greenwood working expert, explained how he uses wood from nearby Horsenden Woods to craft furniture and wooden implements as well as gates and fencing. One star of the event was Luna, a working horse who was dragging logs from the woodland for Thomas and Jon to work with. Jon explained how the horse is used as part of woodland management: "Horse logging is the most environmentally friendly way to harvest timber; we need to thin dense woodland to ensure a healthy woodland habitat, and Luna is a wonderful attraction for local people connecting them with our woodlands and linking up with historic rural skills"
As well as Luna, the Royal party was entertained by the small herd of pigs, whose attention lasted until they realised there were no snacks to be had, and by two billy goats who dozed through the entire visit.
Lynda said, "The visit was a tremendous honour for all of us at the farm – the community gardeners, the volunteers, the craftspeople and those who look after the animals – and especially for Jon the Ranger who has brought everyone together to rebuild the farm. Many of our activities are aimed at wellbeing, recovery, education and access to open spaces. It's wonderful to have our work and enthusiasm recognised in this way."
July 25, 2018