Schools final was as close as they come
Commiserations to Drayton Manor Under 15 girls' football team who made it to the England Schools' Football Association National Finals - narrowly missing the title.
The girls were playing a team from Shelfield school, Walsall, at Pride Park, the home of Derby County.
With scores level at 2-2 at full time, the match went into extra time.
Drayton Manor scored first and led three times with the opposition levelling the scores at 3-3 with an unstoppable free kick just minutes before the end of extra time.
The match went to a penalty shootout which Drayton Manor narrowly lost 4-5.
The Chairman of the English Schools Football Association (ESFA) told the teams, at the post-match lunch, that it was the best girls' match he had ever seen.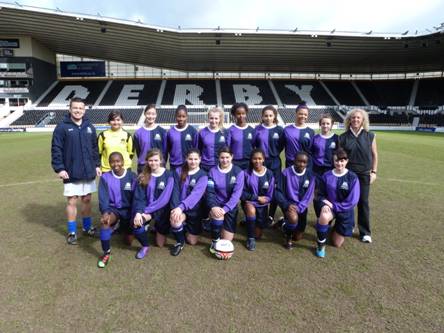 The Team Back Row from left to right – Mr Wayne Walsh (Assistant Manager) Sabrina Lannabi, Maya Mayall, Tranée Pope, Maddie Dale, Amran Ahmed, Seriya Vao, Hannah Ege, Lucy Taylor, Miss Lorely Paine (Manager)
Front Row from left to right – Tanasha Julien, Megan Thomas, Kate Munday, Selin Buyukyiray (Captain) Trina Cassie, Grace Ogwel, Demi Beckwith
Team manager Miss Paine said:
''I cannot put into words how proud I am of the team. Every player gave their all and to be beaten by such a small margin is heart breaking. It has been an amazing experience and one I will never forget. The whole school has been so supportive of the team and it has helped them achieve at the highest level. We are all looking forward to next season.''
Captain Selin Buyukgiray added:
''It has been an honour to captain such a determined and committed team. Although we lost this year we will come back energised for next season and we are all intent on training hard to give ourselves the opportunity of bringing the cup to Drayton.''
Road to the final
Middlesex Cup
Round 1: 3-2 Highgate Wood (Haringay)
Round 2: 12-0 Mill Hill (Barnet)
Round 3: 5-0 Hayden (Hillingdon)
Semi final: 4-0 Acton High (Ealing)
Final: 6-3 Ashmole (Barnet)
Winners : Drayton Manor High School
National Competition
Round 2: 8-0 St Angela's Ursuline School (Newham)
Round 3: 8-0 Shenfield High School (Chelmsford)
Round 4: 4-1 Parmiter's School (Watford)
Round 5: 3-0 Stratton Upper School (Bedford)
Round 6: 4-3 Maiden Erlegh School (Reading)
Round 7: 5-0 Shoeburyness High School (South East Essex)
Semi final: 3-1 Gordano, North (Somerset)
Final 3-3 (lost 5-4 on penalties) Shelfield School (Walsall)
22nd May 2012