Local businesswomen get funding to support their new ventures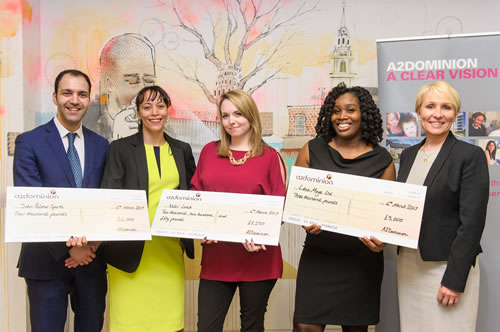 Three entrepreneurs from Ealing have received funding to help develop their business ideas.
Victoria Lynch, Lauren Bezzina and Coretta Scott were awarded the money from A2Dominion at the residential property group's 'Dragons' Den' style event in London.
Victoria, 38, will use £4,000 of funding to launch John Palmer Sports, an exciting new sports club with a focus on gymnastics for young children in Ealing, as part of her ambitious plans to tackle childhood obesity.
Lauren, 30, will inject £2,250 of funding into her innovative lunch delivery service Nutri Lunch, which creates healthy, affordable and nutritious lunches that are individually tailored and delivered to people at work.
Coretta, 41, was given £3,000 to fund her luxury hair care brand Lena Maye, which will sell hair care products that are exclusively organic, environmentally friendly and Fair Trade certified.
A2Dominion, which owns and manages nearly 3,500 homes in Ealing, holds its yearly Dragons' Den style event as part of its Enterprise Programme.
Bassam Mahfouz, A2Dominion's Employment and Enterprise Manager, said:
"This is the fifth year of this hugely successful initiative, which gives us an opportunity to reward the talent and innovation of our residents.
"Victoria, Laura and Coretta each impressed the judges with their determination to help residents' lead healthier, fuller lives.
"All finalists will receive continued support and mentoring, and we are already looking forward to unearthing more business talent in Ealing over the coming year."
Gymnast coach, Victoria, said:
"The enterprise programme has been a life-changing opportunity, A2Dominion has been able to transform my business idea into a reality.
"I want to operate a business that has real social conscience and meets the needs of society."
Nutri Lunch owner, Lauren, said:
"A2Dominion's enterprise workshops have helped me develop my business idea, I am now so much more confident.
"I would like to help people realise that healthy eating can be easy, affordable and convenient."
Budding entrepreneur, Coretta, said:
"It's a great achievement, I didn't think I'd get this far! I'm so glad that I received start-up funding and support from A2Dominion."
This year's panel included Carlene Bender, editor of Contact Us Ealing, an online website promoting local businesses in Ealing along with a selection of the Group's Board members.
Since 2012, the Dragons' Den-style event has awarded over £75,000 to a total of 39 entrepreneurs.
March 15 2017