Daniel Bidace sentenced to life and will serve a minimum of 42 years
Related Links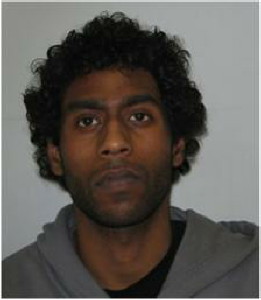 Daniel Bidace found guilty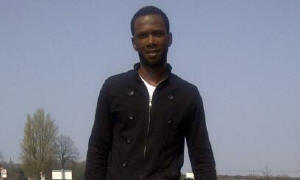 Dothan Gordon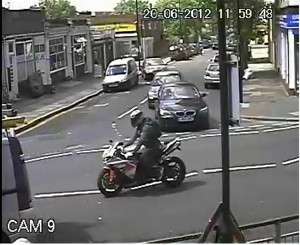 Bidace on motorbike riding to scene of murder last year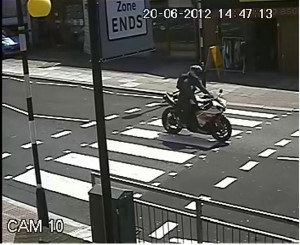 Bidace caught on CCTV after the shooting
Participate
Sign up for our free newsletter
Comment on this story on the
A man who went on the run after brutally 'executing' a father and shooting his disabled partner in West Ealing has been sentenced to life imprisonment to serve a minimum of 42 years.
Excluding whole-life tariffs, it is one of the longest minimum terms imposed in England and Wales.
Daniel Anthony Bidace, 30, of Cromwell Road, SW5, was found guilty of the murder of Dothan Gordon, 32, and the attempted murder of Mr Gordon's disabled partner, Amy Ashitey. The jury also found him guilty of possessing a firearm.
The court heard how on 20 June 2012 Bidace travelled by motorbike to Mr Gordon's home address in Felix Road, W13. Arriving at approximately midday Bidace, who was known to Mr Gordon, made his way into the living room where the two men spent a number of hours together.
At approximately 13:30hrs Ms Ashitey was visited by two females - one of whom was carrying a baby. They were shown to the bedroom where they all remained.
At around 14:20hrs Ms Ashitey heard a loud bang and moments later Bidace tried to enter her bedroom and fired a gun at her. Her disability prevented her escaping and she was shot in her upper torso. A second shot narrowly missed her.
One of the women that had come to visit Ms Ashitey tried to stop the gunman from entering the room. As Bidace continued to push the door she heard a series of clicks from the gun and realised that the gun had jammed.
Bidace then left the property escaping on his motorbike. Fearing for their safety the two friends of Mr Gordon's partner barricaded themselves into the bedroom with one later escaping from a window with the baby whilst the other remained with Mr Gordon's partner.
Officers eventually traced Bidace on 24 June 2012 in Ipswich and he was charged on 26 June 2012 with murder, attempted murder and possession of a firearm.
The jury was told Mr Gordon, who had tried to act as middleman in a £100,000 drugs deal, was shot in the back of the head in an execution-style killing.
Judge Timothy Pontius said it was difficult to imagine a murder committed with such "cold-blooded and totally merciless deliberation".
Amy Ashitey had hoped to marry Dothan Gordon .
He said: "You took Dothan Gordon from the room where he and Amy Ashitey had quietly been watching television, into the living room where you made him kneel on the floor, forehead against a stool, and then executed him with a single shot to the back of the head.
"In light of the horrifying brutality of these crimes I am wholly unable to regard you other than as someone to whom deliberate violence comes readily."
In a statement read to the court Miss Ashitey said the bullet in her body was a "constant reminder" of what happened.
She said of Mr Gordon: "He was such a huge part of my life."
Miss Ashitey had hoped to be able to walk again in time to marry Mr Gordon, in a ceremony planned for August of last year.
Detective Chief Inspector Dave Rock, of the Trident Gang Command, said: "This was a brutal and violent attack on a father of three children in his own home. Not only did Bidace murder Dothan he callously then sought to take the life of Dothan's partner who, due to her disability, was unable to move from her bed and protect herself. Had the gun not jammed there is a strong possibility that there could have been multiple victims that day.
"Bidace has shown no remorse for murdering Dothan, neither has he shown any remorse for the injuries he has inflicted on Dothan's partner. I would like to pay tribute to the victim; she has shown a tremendous amount of courage to attend court and to give evidence against Bidace to ensure that he is brought to justice.
"This case has been a complex one and my team of officers has worked tirelessly to piece together what happened that day. We were greatly assisted by CCTV and with this we were able to put not just Bidace before the court.
"I hope that today's convictions will bring some sense of justice to the family and friends who have been devastated by Dothan's murder."
13th June 2013