Police take action under dangerous dogs act after cat killed
A man's been arrested and his two 'pit-bull type' dogs seized by police investigating a savage attack which killed a cat on Coldershaw Road in W13.
Police say officers from Elthorne and Walpole Safer Neighbourhood Team executed a search warrant under Section 5 of the Dangerous Dog Act 1991 at an address in Leighton Road, West Ealing.
It followed an incident on 9 October when a local cat - Morgan- belonging to Matthew Jeatt and family was killed by two dogs on his driveway. Mr Jeatt and his wife were also hurt.
At the weekend dozens of people turned out at a rally at Ealing Town Hall in support of Matt Jeatt and family and called on the police and council to take swift action over irresponsible dog owners.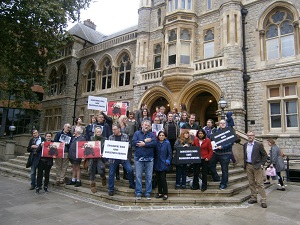 Today (22nd October), officers seized two dogs, described as 'pit-bull type' and a 51-year-old man was arrested on suspicion of being in charge of dogs dangerously out of control contrary to section 3 of Dangerous Dog Act 1991.
He remains in custody in a north London police station
22nd October 2014