Protest following savage killing of local cat
Dozens of people turned out at a rally at Ealing Town Hall at the weekend in support a local man whose cat was killed by two dogs off their leash.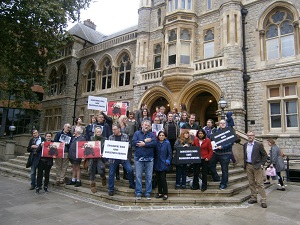 Morgan, who belonged to Matt Jeatt from Coldershaw Road, was attacked (on 9th October) by two Staffordshire Bull Terriers on his own driveway on Coldershaw Road in W13.
The dogs' owner used the chain leads to try and stop the dogs but in the process is Mr Jeatt and his wife Kim were injured and Morgan badly hurt and sadly died.
Mr Jeatt called the rally to draw attention to the issue and believes police need to take quick and firm action against irresponsible dog owners.
He said: '' We're calling on the council and the police to take urgent action. I find it unbelievable that it's ten days since the attack and nothing has been done. I don't feel safe in my own street and the whole community is very fearful about the potential for another attack, and next time it could be a child. My community is doing something but it shouldn't be down to us.''
Dr Rupa Huq, Labour's Parliamentary candidate in Ealing Central and Acton attended. She said:
''The Jeatts who have two children including one with learning difficulties are not only coming to terms with their loss at what is already a painful time but are understandably angry with the situation in which literally a dangerous dog is on the loose.
''The worry is that what happened to the much loved local cat Morgan could happen to a child next. No amount of lofty legislation for the future is going to replace Morgan or confront the urgency of having some action taken after the death of a sadly missed family pet who was known to many around Coldershaw Road in order to avoid any repeat."
Ealing MPS have tweeted this morning (22/10) :
''Two pit-bull type dogs were seized and one arrest under the Dangerous Dogs Act in the W13 area. #communityactionday
We are awaiting confirmation from the police if this relates to the Coldershaw Road attack.
22nd October 2014