Comments come after cat killed in attack by Staffordshire bull terriers
An Ealing MP says owners who can't control their dogs should feel the full force of the law.
Her comments come after an Ealing couple were injured trying to save their cat, Morgan, from an attack by two Staffordshire Bull Terriers - which were off their leads on a residential road.
It happened on Coldershaw Road in W13 last Thursday (9th October) at around 3.30pm.
Matt Jeatt, Morgan's owner, said the dogs hunted and 'savagely killed' Morgan on their own driveway.
The dogs' owner used the chain leads to try and stop the attack but in the process is believed to have injured both Mr Jeatt, his wife Kim and Morgan - who sadly died.
Mr and Mrs Jeatt needed hospital treatment and are absolutely distraught over the loss of Morgan - a popular rescue cat.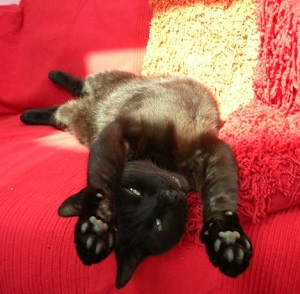 Mr Jeatt wrote:
'' I am truly grateful that I am not writing about a child as the victim of this savage and deadly attack but will never forgive this, or any other owner, who does not see the potential danger in letting uncontrollable dogs loose in public.''
The Ealing Central and Acton MP, Angie Bray, has campaigned to tighten the laws regarding dangerous dogs, and believes police should take action against owners who can't control their animals. She says:
'' The Government, urged on by MPs like myself who have long campaigned on doing more to tackle the blight of dangerous and out-of-control dogs, has legislated to extend legal protection to those who are attacked on private land. Before, the law only applied to public places. The law came into effect in May this year and is an important step forward.
''Obviously the problem that remains is that while this will help to crack down on attacks on people, it is less clear that attacks on animals get the same attention. I think it would be for local police to decide how to prioritise where this occurs. But the main issue is that the dogs themselves must be kept under proper control and where it can be shown that whoever is in charge of the dogs is not controlling them sufficiently then it should be possible to charge them if and when they can be apprehended."
Ealing police officers have taken a statement and they say an investigation is 'on-going'.
There have been no arrests.
Mr Jeatt plans to highlight the issue of the delays in holding owners to account for failing to keep their dogs under control.
He will be holding a protest outside Ealing Town Hall on Saturday 18th October 10.30am.
He says: '' My fear is that these dogs will attack again and the next time it might be a child who is killed. God forbid that that should happen while we wait for police and council officers to act to curb this menace.

''Caring dog owners are very welcome to join me with their dogs as I am sure that they will share my concerns about irresponsible owners and the danger they represent to our community.''
16th October 2014