Tip off from residents alerts police
Related Links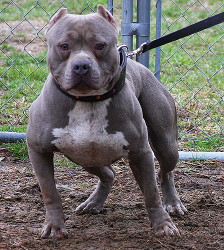 Example of a Pit Bull
The Dangerous Dogs Act 1991 is the most prominent of various laws that cover dog ownership in the UK.
The act bans the breeding and sale or exchange of four kinds of dog - pit bull terriers, Japanese Tosas, the Dogo Argentinos, and the Fila Brasileiros. Cross-breeds of those dogs are covered by the law.
Any other dogs "appearing... to be bred for fighting or to have the characteristics of a type bred for that purpose" are also banned.
Participate
Sign up for our free newsletter
Comment on this story on the
Police have seized 10 Pit Bull type dogs during a search at Curlew Court, Gurnall Grove in West Ealing.
A search warrant obtained under the Dangerous Dogs Act was granted after police officers received information from local residents alleging the address was being used for dog breeding.
Officers from Cleveland Safer Neighbourhoods Team searched the premises and found two adult dogs, two older puppies and six new puppies.
The dogs were taken by the Status Dog Unit and moved to police kennels for further examination to establish the exact breed.
PC Tasha Hendy from Cleveland Safer Neighbourhoods Team said: "We are very pleased with the result of the search and grateful to the local residents for providing us with the information leading to this discovery. It is a very good example of great cooperation between local community and local Safer Neighbourhoods Team, which proves that together we are stronger in fighting crime on our doorstep".
August 19, 2009