Ben Farmer talks to medics taking industrial action
Some Junior doctors who took strike action yesterday (Tues 12/01) used their time to teach life saving skills to commuters and schoolchildren outside Ealing Broadway Staion.
Thousands have been protesting against the introduction of new contracts which they say will pave the way for longer working hours and lower pay.
Health Secretary Jeremy Hunt said the walkout was "completely unnecessary" and has urged them to return to the negotiating table.
Ealing student, Ben Farmer, went to Ealing Broadway to find out more, below is taken from his blog:
''I went to one of the junior doctor's protests in Ealing Broadway and got chatting to Dr Alice Findlay, a paediatrician at under-threat Ealing Hospital. She's been a junior doctor for three years and told me she was 'fed up of the situation.' 'I'm proud of the NHS and the right
to free medical care' she said and assured me that she 'didn't want to be striking but had no choice' and so with her colleagues decided to put their expertise to good use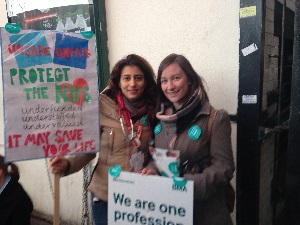 Another junior doctor hard at work was Vin, GP trainee of two years. I grabbed a quick word from him whilst he was explaining to a few year 10 girls the importance of chest compressions. He explained the absurdity of the situation; faced with £100,000 of student debt he's working for under £26,000 and struggling with the high living costs of London. For Vin, the strike was a chance to voice his frustration at the government but in a constructive way by showing the general public the side to a doctor they rarely see.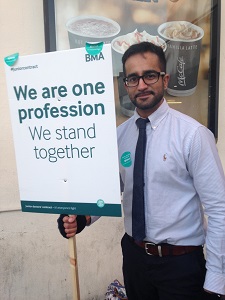 I also spoke to Dr. Helen Laycock who was keen to dispel the rumour that a junior doctor is just a short period of career- she's been one for ten years. She assured me that whilst patient safety wasn't comprised due to the industrial action, there was significant disruption, enough she hoped for NHS bosses to take action. Only time will tell if this well be the case.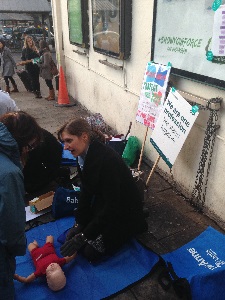 Attempts are now are under way to stop a second strike in England.
The Conciliation service Acas said fresh talks would start on Thursday.
The next proposed strike is a 48-hour one beginning on 26 January.
(images courtesy Ben Farmer)
13th January 2015