Latest production at Ealing's local theatre on until Saturday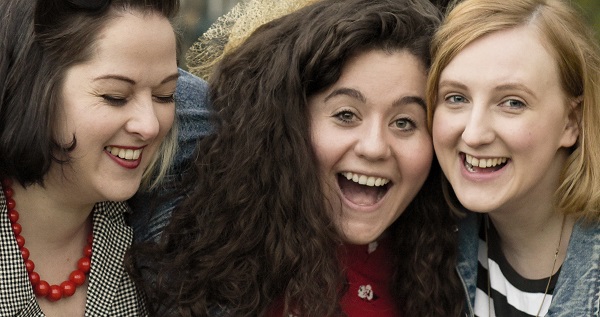 (Photographer: Jane Arnold-Forster )
Three strong characters and three very strong performances are on show in The Questors latest offering written by actress Amelia Bullmore.
Di and Viv and Rose focuses on the relationships between these very different university pals who first meet in the 1980s.
Interjected with lots of timely and nostalgic tunes from the era, the first half ( albeit a tad long and slightly uneven in pace in parts) develops the three characters and we learn all about the women and see how their friendship grows.
When a shocking and traumatic event befalls Di, her friends Viv the academic sociology student ( played by Dani Beckett) and Rose who's fun, free spirited and studying art history ( Lauren Grant) step in and look after her in a very gentle and moving scene. Lisa Varty as Di must be commended here, an intense and emotional performance played with sensitivity and great subtlety.
The second half of the show is much shorter and we're brought up to date with major life events which affect the trio. The three women experience love, loss and change and take us on a journey looking at what true friendship means.
This is a heartfelt play with honesty, humour and emotion and is being performed in the Studio Questors Theatre, Mattock Lane, Ealing W5 5BQ. Performance are on 18th, 19th, 20th, 21st, 22nd June at 7:45pm,
Full details and online booking
Box Office: 020 8567 5184
11 June 2019