Developers release more images and step up their sales pitch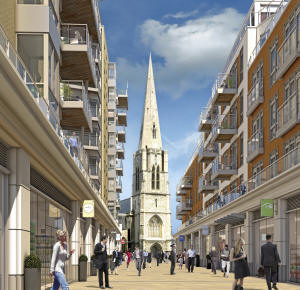 An upmarket boulevard lined with luxury apartments and top range shops - that's the vision of Dickens Yard in Ealing's centre from developers St George.
The new development will house 698 apartments and penthouses (starting prices from £309,950) which will look out across landscaped private gardens or pedestrian boulevards.
There are plans for three public piazzas which the company say 'will play host to lively markets, street theatre and jazz events and will be lined with cafés restaurants and boutique shops, to create a bustling new destination for Ealing'.
In an attempt to woo (and wow) prospective buyers, St George has just opened a glossy new marketing suite, housing an interactive development model and a Spa model, demonstrating just what's available for purchasers.
Set above a glass spiral staircase, the upper level features a customer selection room and a champagne Bar, along with 3 interior designed show apartments, showcasing the Manhattan, 2 Bedroom and 3 Bedroom Elite homes which are available at Dickens Yard.
Ian Dobie, Managing Director of St George West London said:
''We are delighted to be launching the new sales and marketing suite at Dickens Yard. The show apartments feature the exceptional specifications that our customers have come to expect from us; from custom designed kitchens to luxurious stone bathrooms.
''The interiors are elegant, spacious and light. The new Spa facility will add an additional touch of decadence and luxury to Dickens Yard and allow our customers to unwind from their busy lifestyles just moments from their front door.''
The location of Dickens Yard is being used as a major selling point - it's proximity to Ealing Broadway with its tube and mainline trains as well as links to the M4 and North Circular are deemed to be important information for potential buyers.
Ealing is being promoted as a place with a wealth of history to explore.
Architect John Thompson says: '' The Dickens Yard site is surrounded by a rich heritage - the Grade II Listed Town Hall; the locally Listed Fire Station and Christ the Saviour Church, which we were keen to integrate with the development itself.
'' So we created a high quality public piazza to link the contemporary new architecture with the historic buildings, connecting with the wider network of streets within Ealing. We believe this is fundamental to creating a vibrant and dynamic new destination for the area."
It's hoped that Dickens Yard will create an exciting new urban quarter in the heart of Ealing.
Can Dickens Yard breathe new life into Ealing? What do you think?
17 November 2011