Blaze at central Ealing development
Fire crews have been tackling a blaze involving a diesel tank at the new Dickens Yard development.
This footage on Youtube was sent in by Joanna:
http://www.youtube.com/watch?v=fn55r1E0gBg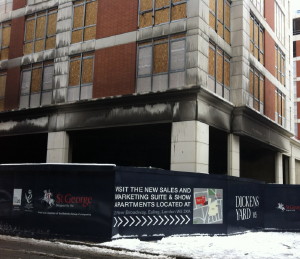 Photo courtesy @KenDay
The fire started around 7.43am Sunday 5th February four fire engines and 20 firefighters were called to the scene.
A spokesperson from the developers, St George, said:
'' The fire at Dickens Yard in Ealing, London, W5 on the morning of Sunday 5th February, involved a temporary generator located adjacent to theground floor of the site.
''The fire was promptly extinguished and on first inspection the damage appears to be smoke damage to a small area of the ground floor.
''The developers, St George, are grateful for the efforts of the London Fire Brigade and the other emergency services that responded so quicklyand professionally to this incident.
'' St George is now waiting for afull report from the London Fire Brigade before making any further comment on the situation.''

7th February 2012