Official unveiling ceremony at Walpole Park
A new tulip tree planted in Walpole Park in honour of Diana, Princess of Wales, has been unveiled.
The tree replaces the original one planted in dedication following the Princess' death in 1997. It had to be removed as part of the ongoing improvement works in the park.
During the ceremony, the borough's Deputy Lieutenant, Robert Leader, and the Mayor of Ealing, Councillor Kamaljit Dhindsa, dug in the tree and unveiled a plaque.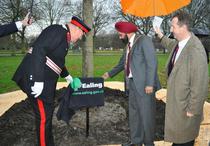 The dedication of the tree is part of a £5.2m Heritage Lottery Funded (HLF) project to reinstate the regency views of the park, restore its heritage features and make it more accessible for all.
Councillor Julian Bell, leader of Ealing Council, said:
"The new tulip tree in Walpole Park gives local people a lasting memory of Princess Diana, while also adding to the beauty and splendour of the grounds. I hope all local people will find the time to visit the memorial in its new location."
The project team looked into relocating the original tree to a new location within the park, but the heavy machinery required for the move and the weight of the tree's roots could permanently damage the adjacent heritage cedar trees.
The new tree is planted on the grass area between Oak Avenue and Ealing Studios in Walpole Park.
14th January 2014