Personal blog about Southall's Indian community has since been removed
Participate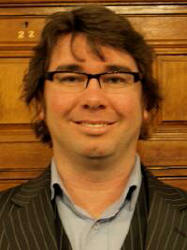 From Ealing Central and Acton Conservatives
Born in England but raised in New Zealand, Cllr Benjamin Dennehy now lives in Hanger Green, Ealing. He was called to the Bar in 1999 and is now a Director of his own Business Consultancy. He loves cycling through London, the odd tipple of English cider and watching the rugby.
Sign up for our free newsletter
Comment on this story on the
Hanger Hill Conservative Councillor, Benjamin Dennehy, has been temporarily suspended from the Conservative Group following allegations about comments made on his personal blog.
Mr Dennehy, wrote that the number of illegal immigrants in Southall was a 'constant on the public purse' and that 'criminality is endemic' in the area.
The comments have been described as 'very offensive' and Labour councillor Shital Manro is planning to lodge a formal complaint to Ealing Council's board of standards, which monitors the code and conduct of councillors.
Mr Dennehy's blog on Southall now appears to have been removed - and in an entry entitled 'Free Speech oppressed?' Mr Dennehy says ' I am ashamed to be a Tory at Times'.
http://benjamindennehy.blogspot.com/.
Ealing's Tory leader Councillor David Millican said:
"The Conservative Group in Ealing is investigating allegations against Councillor Benjamin Dennehy during which time he has been suspended from the group."
Labour has this morning issued a joint statement from Council Leader Cllr Julian Bell and local Councillor Ranjit Dheer:
"We are very disappointed with Cllr Dennehy's comments. He paints an inaccurate and unfair portrait of Southall. Southall has problems but they are by no means unique to Southall. We are proud to represent Southall and all its residents and we do not believe in talking down any part of the borough.
'' Cllr Dennehy's comments about the impact of immigration and the Indian community have an unfortunate tone and we believe he should apologise for them. It is not part of our politics to single out and attack any particular community within our borough. Such divisive politics has no place in Ealing.
''All parties on the council used to take great pride in the strength of our varied communities and the good relations that exist between all the people of Ealing. We understand that Councillor Dennehy has been suspended by the Conservative party but has so far issued no apology for his comments.
'' His only public comments on the matter have been to say he is ashamed to be a Tory. We do not think this is good enough as a response for the people in Southall who he has offended."
March 13 2012