Specialist team search for missing cat in W13
An Ealing woman has gone to extraordinary lengths to find her very special cat.

Delta - a two year old rescue cat - went missing on the morning of Monday 26th January from Brentside Close in W13, leaving owner Geraldine Ronan and her son distraught.

Mrs Ronan searched the internet and came across specialist animal 'detectives' from Birmingham who said they could travel down and help.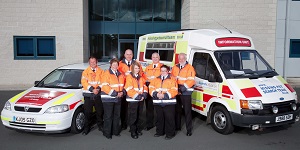 The team, led by former West Midlands police officer Tom Watkins, who has over 18 years of investigation experience, are equipped with walkie-talkies, rescue traps, torches and police style patrol vehicles.

Mr Watkins says:

''Most missing pets are found within a mile of home – the challenge faced by owners, is making sure that as many people as possible know that their pet has gone missing, and encouraging them to be vigilant in keeping an eye out for them."

''Unfortunately, work and family commitments often mean that owners don't have as much time as they'd like to devote scouring the area looking for their missing pet, and this is one of the ways in which Animal Search UK can help. Our professional, uniformed specialist missing pet search teams can usually be at any location in the UK within 48 hours, to help owners find a missing pet.''

The company launched fourteen years ago and now has as many as 2000 visitors a day to its website, scanning the lost and found databases in the hope of being reunited with their missing pets.

The detectives spent the day in the area putting up posters, talking to neighbours and conducting a thorough sweep. Mrs Ronan says they aren't cheap but pet insurance can cover the costs.

'' I just thought I had to try every avenue to find Delta because he really is a lovely cat. He once stepped in to prevent me being attacked by an aggressive fox in the garden and was badly hurt and left with a scar.

''I haven't given up hope that he is out there - maybe he's being looked after by someone, we just want him home.''

Delta is described as an all black cat with a scar on the right side of his nose. At the time of his disappearance he was wearing a blue, plastic collar with a bell on it, this may have been lost or removed.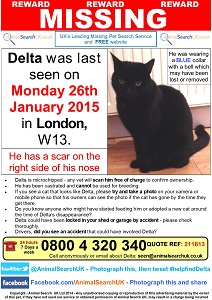 Animal Search UK's promise is that they will do all they can to leave no stone unturned in the search for Delta.

Anyone with news, information or who has a sighting of Delta should ring the Animal Search UK free confidential helpline on 0800 4 320 340 and quote case ref: 211613 or search on the website www.animalsearchuk.co.uk for pet ref: ALP211613

Lines are open 24 hours a day and you can remain anonymous if you wish or email information to info@animalsearchuk.co.uk
3rd February 2015