'Coronation Street on Speed'
Related Links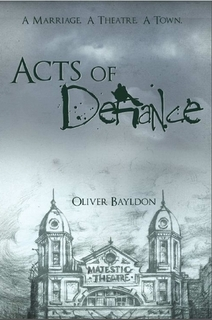 ACTS OF DEFIANCE is now available as a paperback directly from Lulu.com, or downloaded on Amazon Kindle.
It can also be purchased through local bookshops by quoting ISBN978-1-909473-00-3 or via willowebooks.org.uk
Participate
Sign up for our free newsletter
Comment on this story on the

Local author, Oliver Bayldon, the Bafta award-winning television and film production designer, has published his latest novel, Acts of Defiance.
Oliver's short stories have been broadcast on BBC Radio 4 and published in the national press over the years. His new book is a black comedy set around the demise of a local theatre. As the BBC Prospero magazine says - "It's like Coronation Street on speed. His rehearsal scenes for the panto are simply hilarious. It just left me wishing the book had gone on to describe what happened afterwards !" . It has also had excellent reviews on Amazon Kindle and on Willow eBooks, and caught the mood of the times.
Oliver who designed the original episodes of The Onedin Line and Poldark has worked with many producers and cameramen such as Remi Adefarasin living here in the borough.
He won his Bafta for his design of Memento Mori directed by Jack Clayton and has gained several other nominations for other work, including a Royal TV Society award for Never Come Back. After many years of regular filming at Ealing Studios, exhibitions of his TV and stage designs have been held at the Royal Society of Arts and the British Academy of Film and TV Arts.
He has lived in Ealing for over forty years and is a strong supporter of Ealing Civic Trust and campaigns for rebuilding our local cinema. He says:
''Ealing has its famous film studios but not a single cinema, central Ealing has greatly improved in the last few years, so let us hope Cross-rail will speed all these processes up. It is not called Queen of the Suburbs for nothing. No wonder many people who move away soon want to come back.".

22nd March 2013