MP highlights importance of heart checks for young people
Related Links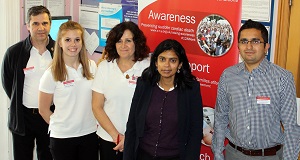 Dr Huq (second right) with CRY team members (L-R) Gareth Jones, Jodie Egerton, Janice Long and Dr Harshil Dhutia.
Participate
Sign up for our weekly Ealing newsletter
Comment on this story on the
The Ealing Central and Acton MP, Dr Rupa Huq, visited the latest free heart screenings sponsored by the Tom Clabburn and Claire Prosser Memorial Fund at the Florence Road Health Centre, Florence Road, Ealing.

Nearly 100 young people were screened at the fully booked event (15th Nov) by the charity Cardiac Risk in the Young (CRY), which says that at least 12 young people in the UK aged 14-35 die each week from undiagnosed heart conditions.

Dr Huq said: "It was a really eye-opening experience to see for myself how a CRY screening works and impressive that such a diverse range of people from all cultural backgrounds were waiting to be tested. The message is getting out about the importance of screening and I would urge everybody in the age range to take the opportunity of being tested at a future event.

"It's brilliant to have a CRY team working in Ealing and I can't thank them enough."

She added: "I'd also like to praise all those people who have supported Tom and Claire's Fund over the years. Without their efforts, raising awareness and funds, these free screenings couldn't take place. It was a pleasure to meet some of the fund's supporters on the day."

Tom and Claire's memorial fund was set up after Tom, a 14-year-old Drayton Manor High School student, died aged 14 in 2007 from an undiagnosed heart condition. His mother, Claire Prosser, helped to run the fund before she too died from a heart condition in 2014.

Paul Clabburn said: "Ellen and I are very grateful to Dr Huq for spending so much time at the screening and also for joining CRY's All Party Parliamentary Group. We are also, of course, indebted to the CRY team for the highly professional but hugely welcoming way in which they go about their work and to Dr Evans and the team at the Florence Road health centre who make the facilities available."

Tom and Claire's Fund has sponsored more than 1,200 free CRY heart screenings, mainly in west London, since 2009. It will sponsor further screenings in 2016.

If you wish to be screened in the meantime, please find out more here.

20th November 2015