Money raised at Crispins during a special dance event
(Ealing defib presentation: Stefan Rastovic (son of Polka and Alex, Owners) Polka Rastovic (Owner), Gerald Newns (St John Ambulance Unit Manager, Ealing), Timothy Robinson (fundraiser and event organiser
An Ealing man has helped provide a vital piece of life saving equipment, to a town centre wine bar.
The automated external defibrillator (AED) has been bought by Crispins Wine Bar following a 'Dancing for Defibs' event held in October last year.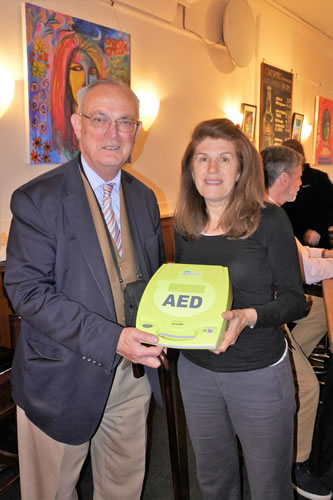 ( Ealing defib presenation Timothy Robinson (fundraiser and event organiser) and Polka Rastovic (Owner).
The fundraising initiative was instigated by Greenford resident Timothy Robinson, after he attended a St John Ambulance awareness raising event. Keen to support the charity's life saving work, and to promote first aid in the community, he approached wine bar owner Polka Rastovic about installing the unit at the premises and holding the Dancing for Defibs event.
Tim said: "I suffer from an irregular heartbeat myself, and through attending St John Ambulance events and first aid training, I have learnt how vital these pieces of equipment can be to someone in cardiac arrest.
"I knew I couldn't run a marathon to raise the money for the defibrillator, but I knew I could dance for three minutes instead. 'Jumping Jack Flash' was my choice of song on the night, which was marvellous. We also had wonderful support from other customers, with some taking part, and others just simply donating to the cause.
"I'm very pleased to see the defibrillator installed at Crispins. It will give people – customers and residents - a chance of survival should they have a cardiac arrest."
The evening raised around £800 towards the defibrillator, with customers of the bar each donating money to either watch or dance for three minutes to a chosen song.
When someone suffers a cardiac arrest, the chance of survival falls by 10 per cent every minute without first aid. But, with CPR (cardiopulmonary resuscitation) and the use of a defibrillator within three minutes, their chance of survival could be as high as 70 per cent.
Polka added: "When Tim came to me with this fundraising idea I felt it was a great opportunity to support something which may be vital to saving someone's life in our community. We've been here for 35 years and have many regular customers, young and old. We're now in a position to help should they need it."
As well as the presentation of the defibrillator, local volunteers from St John Ambulance, including Gerald Newns, West Ealing Unit Manager, provided a demonstration in how to do CPR and how to use the defibrillator.
Lenita Dickson, St John Ambulance community fundraising coordinator, added: "Community fundraising events such as this are so important – well done to all involved. The more defibrillators we have, the better equipped we are to save lives."
The AED at Crispins Wine Bar will be available during opening hours (Sunday to Thursday from 12pm until 1.30am, and Friday and Saturday from 12pm until 2am)
For more information on St John Ambulance, including how to make a donation, volunteering opportunities, and details of training for the public, schools and businesses, visit www.sja.org.uk or call 08700 10 49 50.
22nd May 2017