New comedy club opens in Ealing to a select gathering
Related Links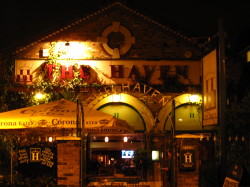 The Haven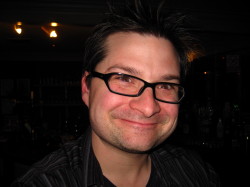 MC Erich McElroy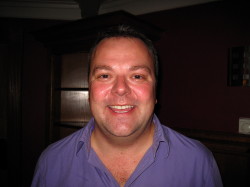 Hal Cruttenden
The Haven
33 Haven Lane
London, W5
020 89970378
Participate
Sign up for our free newsletter
Comment on this story on the
The comedy festival held in Walpole Park this summer was a great success and proved there is a large audience in Ealing eager to be entertained.
Unfortunately there is very little to pull people into the W5 at night apart from the usual pubs and restaurants. The Drayton Court in West Ealing flies the flag for comedy with regular Friday gigs but the town centre has lacked any such venue - until now.
Erich McElroy and Pete Jonas set up The Comedy Tree in Putney in 2002 and McElroy has now decided to branch out (geddit?) to Ealing.
Crack Comedy (Kingston's longest stand-up comedy club) is now being held every Thursday upstairs at The Haven (overlooking Haven Green).
Opening night and the room did feel rather cold - with only 16 of us in the audience it was a little too empty, but, Erich (who was MC) soon warmed us up with his own brand of American/British humour.
Three comedians (Paul McCaffrey, Paul F Taylor and Jimmy McGhie) came and went in swift succession providing smiles rather than huge laughs.
Perhaps these guys were more used to dealing with students and hecklers, the intimacy and the age of the audience (mid 30s and older) seemed a little too daunting for these young chaps.
Someone who wasn't daunted however was top act of the night Hal Cruttenden. Despite having been stuck in traffic and arriving late, he managed to make us laugh from the start with references to his apparent campness (his mother thought he should marry his best man) and his private school education at Ealing's Durstan House (which he hated).
Hal's big breakthrough in stand up came with his nomination for the Perrier Newcomer Award at the 2002 Edinburgh Festival for his solo show 'Hal', followed by a highly successful run the following year of his second show, 'To Hal and Back', which was also performed at the Soho Theatre in London.
His one man show, 'Climb Every Molehill', was critically acclaimed with The Scotsman's review saying, 'He has the actor's ability to let a story build and, when he peaks, his animation is a joy.'
He is a regular performer at all the top UK clubs, including the Comedy Store, and has supported Rob Brydon, Ardal O'Hanlon and Omid Djalili on their nationwide tours.
Hal came across as energetic and likeable and gave an animated performance befitting a much larger venue.
He left us all wanting more which is always a good sign.
There are some top names coming up over the next few weeks - check them out and enjoy the 'Crack' yourself.
Annemarie Flanagan
October 21st, 2009