Allegations workers using vouchers to park in residential zones
A former Conservative Councillor claims a local housing association - and some council staff - are abusing Ealing's parking system on a widescale.
Phil Taylor says staff from A2Dominion - based on Uxbridge Road - are using service vouchers to park in CPZ spaces meant for residents. He says he has also seen council staff doing the same in a different zone.
Service vouchers are designed to allow staff to drive into CPZs for short use - but not intended to be used for daily commuter parking.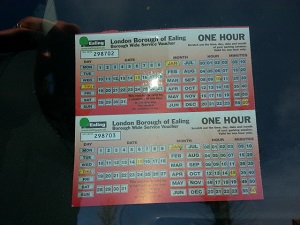 Both the JJ CPZ ( Culmington Road area) and the W CPZ (Mattock Lane) are close to the town centre and only operate for two hours - so a day's parking could be covered by using two £1.20 service vouchers.
Mr Taylor says last month he counted 15 cars with service vouchers on Culmington Road (Zone JJ) and this week watched a member of staff park in a CPZ bay on Mattock Lane and walk to the housing association's new building.
He has made the claims on his blog and asks :
'' Why are A2Dominion allowed to get away with this continuing abuse? Could it have anything to with the fact that council leader Julian Bell is an A2Dominion tenant? Or that the Labour councillor in charge of parking, Bassam Mahfouz, is an A2Dominion employee?
The housing association deny staff are doing anything wrong.
A2Dominion's Group Director of Property Services, David Lingeman said:
"A2Dominion purchases 'Service Vouchers' as a business, allowing our staff and those of Pyramid Plus to provide essential services to our residents.
"As far as we are aware, their use is conducted in accordance with Ealing Council's terms and conditions."
The company add that having been made aware of these concerns, they will speak to staff to make sure they're fully aware of how they should be used.
A council spokesperson said:
''The purchase of service vouchers by council staff is controlled and staff are explicitly prohibited from using them for commuter parking. We will continue to monitor their use and welcome any reporting of specific voucher serial numbers so we can investigate any possible misuse.
"Our terms and conditions already state that service vouchers should only be used for essential business visits and we are introducing changes later in the year that will make it easier for us to identify any misuse of the scheme by businesses.''
11th February 2015