The local resident had been left alone without a carer for days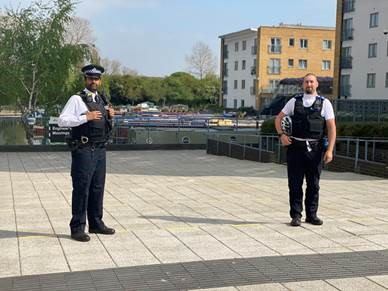 Ealing Police Officers who conducted a follow up welfare check on a local victim of crime found an elderly woman in urgent need of help.
PC Kish Chandrakumar from Northolt West End Safer Neighbourhoods Team [SNT] and PCSO James Tupman from Greenford Broadway SNT, came to the rescue after visiting the property of the couple aged in their 80's.
It turned out the elderly woman's husband, who was the primary carer, had been taken ill and admitted into hospital leaving his wife unable to prepare food or wash herself for several days.
PCSO Tupman helped make her some food and contacted social services, where her care plan was reinstated. As a result of this, she is now being cared for and visited 3 times a day.
The officers have been praised for their vigilance. A spokesperson for the Metropolitan Police said, ''This is another example of an amazing ongoing work which our officers and staff are doing to keep our communities safe, during these difficult times."
Do you know of any more local heroes that should be acknowledged during these difficult times?
Contact editor@ealingtoday.co.uk with the details and we will let Ealing know!
April 21 2020