Rosanna Henderson giving 25% of her proceeds during pandemic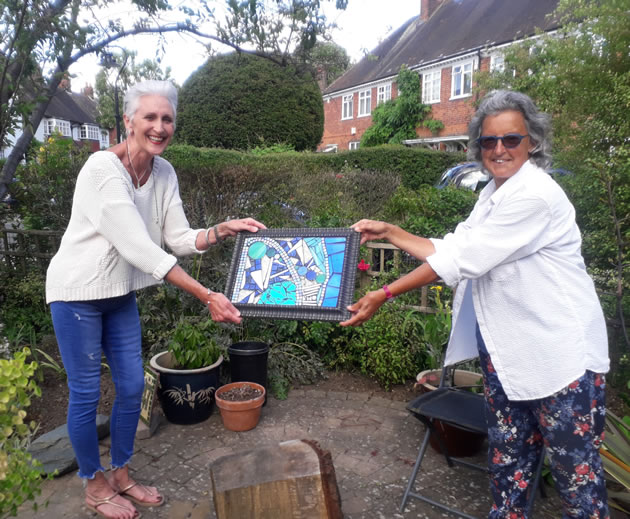 Rosanna Henderson, an Ealing based mosaic artist, is donating 25% of all her sales proceeds during the crisis to Ealing Food Bank.
Rosanna usually works to commission, sells in galleries and takes part in the BEAT Ealing Art Trail.
She says, "Pictures of all mosaics currently for sale can be found on my Instagram and Facebook pages.
"In addition, I also auctioned a mosaic and all the money went to Ealing Food Bank."
The lucky winner was professional photographer Maggi Marmion who bid £100.
The picture above shows Maggi getting her prize with social distancing rules being observed.

Ealing Foodbank provides emergency food to people living in the London Borough of Ealing who have been referred to them by their partners. They are currently open at St Mellitus Hall, 1 Church Road, Hanwell to clients with referrals from Monday to Saturday 10am to noon except on Wednesdays. Any one wishing to donate food should come to the centre between 10am and 4pm on Wednesday.

June 3, 2020