Praise for 'thoughtful design and community focus'
Related Links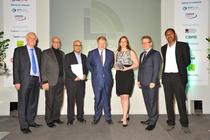 Councillor Hitesh Tailor, Mayor of London Boris Johnson and the Copley Close project team at the awards ceremony
Participate
Sign up for our free newsletter
Comment on this story on the
A major project to transform a rundown estate in Hanwell has won a London Planning Award.
Ealing Council's scheme to transform Copley Close Estate was picked as 'Best Conceptual Project'.
Over the next five years the estate will see 205 new homes being built and a further 550 existing homes refurbished. The vision is make the estate somewhere everyone wants to live by drastically improving the standard of the council owned homes, as well as providing new homes for sale and rent at a range of price points.
The new mixed tenure development will incorporate new housing for council tenants, flats and houses for private sale, shared ownership, market rent and affordable rent. New community, retail facilities and public spaces will also be created.
Ealing Council will act as developer and landlord rather than getting a housing association or private developer to take over the estate. The council is overseeing and financing the whole development process by setting up its own company that will develop the new homes for sale and private rent.
The awards, held earlier this month, recognise excellence in building and planning. The judges, who included the Mayor of London, Boris Johnson and the Royal Town Planning Institute, commented on 'the thoughtful design solutions for refurbished and new homes, planning approach, entrepreneurial flare, community focus and overall innovation.'
Judges were also impressed at how the development will overcome the design challenge of having a railway line running through the estate. Existing homes suffer from damp, subsidence and vibration from the nearby train line.
Councillor Hitesh Tailor, cabinet member for housing, employment and skills said: "Having spent time on the estate, meeting residents and listening to their concerns I was determined to drive this project forward. I'm delighted that Ealing Council's approach to regenerating Copley Close has been recognised for its innovation and high quality design as well as its investment in local people and communities."

18th February 2014