At the Clock Tower Cafe
Related Links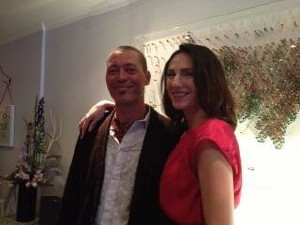 Artist Clinton De Menezes & cafe owner Morna McAulay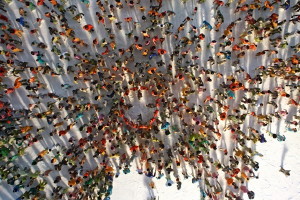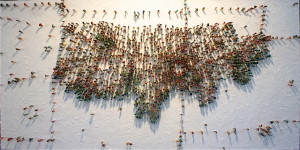 White Field - Clock Tower
Participate
Sign up for our free newsletter
Comment on this story on the
A striking art installation which is simultaneously about Hanwell and in Hanwell has been unveiled by Ealing's Mayor, Cllr Kamaljit Dhindsa.
Created by renowned artist and Hanwell resident, Clinton de Menezes, the piece; "White Field - Clock Tower" is a representation of map of Hanwell – with thousands of tiny, hand-drawn people who seem to be moving toward the heart of the shape - which is the location of the newly relaunched Clock Tower Café – which is where the artwork is installed.
Cinton told me "I sourced the map from an old O.S. map of Hanwell from 1800 and then mixed in Google maps. The main roads in and out, the river Brent and the Doomsday boundary are all included."
I had seen pictures of his creation a few days before – but was blown away seeing it 'up close and personal'. It's three dimensional- and the lighting creates shadows which really ring the piece to life. [It's worth noting that Clinton has tipped Hanwell over, so the left hand side of the picture here, is "north"].
The café's new owner, Morna McAulay, got to know Clinton as their kids go to the same schools. And she made the launch party a real family affair by having her dad, Iain, playing the piano. Not just any old piano though, this was the one used in the movie 'Calendar Girls' and is autographed by loads of the cast.
The café itself? Looks lovely, they have a menu of light bites and can serve wine. Plus they have a selection of deli items for sale like preserved lemons and flavoured oils.
Viv Ellis
23rd July 2013