City Radio Stores on Bond Street will shut at the end of the year
It's been described as 'an Aladdin's cave of electrical goods, a traditional store with traditional values, knowledgeable staff who have time for their customers', and... 'the best electrical shop in the world.'
Sadly this long serving Ealing institution will be turning its lights off for good at the end of the year.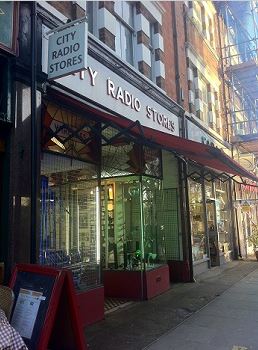 City Radio Stores on Bond Street has been trading since 1929 - its striking and original art deco shop frontage standing out from the bland high street chains.
Peter Burford who's been owner for 31 years says the shop is reaching the end of its lease and he's ready to retire.
'' I was 38 when I came into the shop - I was working in wholesale and this was my first job. I'm 69 now and it's time to take it a bit easier. I'd love to sell it as a going concern, but we'll have to see. I really hope whoever takes it over will keep its unique frontage and doesn't try and strip it away.''
Peter says he has been telling his customers about the closure - many have been using the shop for years - and they are distraught.
''They've told me they'll be left in the dark without the shop'' he says. '' Most stores selling electrical stuff just don't have as much knowledge as we do.''
His words are backed up by the many glowing testimonials from happy customers.
'' This is the best electrical shop in the world', writes one, ''Incredibly knowledgeable, very helpful and remarkably good value. Even though it's a tiny shop they have everything from cable by the metre, Roberts radios, really high specification microphones, indoor and outdoor lighting, -oh, I could go on but I don't know enough about electrical things to know what matters. Just want to say it's great.''
As well as many regular shoppers from Ealing, the store has attracted a loyal following from elsewhere.
Tom Dewan from Oxford writes:
'' I am an artist and engineer, and a former London resident now living in Oxford. I still come to Ealing to visit City Radio, as they simply have the goods you cant get anywhere else, even online in some cases. They're more than a mere supplier, they have detailed knowledge of the range of their clientelle's interests. As a result, their service is irreplacable by any online specialist, ebay shop, or large franchise. I've yet to find a shop that can touch it. Go there if for nothing else than to appreciate excellence (and admire the recently restored stained glass). I shall mourn the day this shop ever goes, long may it thrive.''
The shop, at 37 Bond Street, is part of a run of locally listed buildings on the east side of Bond Street (1-45). They're believed to have been locally listed because they were designed by Frederick Hall Jones - the son of Charles Jones the famous Victorian Borough Engineer who carried out the job for 50 years (from 1863-1913).
There is no statutory protection upon the building but the shop is in Ealing Town Centre Conservation Area so any proposal to change the appearance of the shopfront would require planning permission.
Ealing Civic Society Chairman, Robert Gurd, says: '' We are sorry to hear that City Radio Stores is due to close. The unique art deco shopfront is a rare survivor and we hope that any new owner will sympathetically restore it and retain it for future generations to come.'''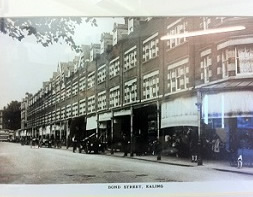 11th February 2014