Campaign for affordable housing backed by political contenders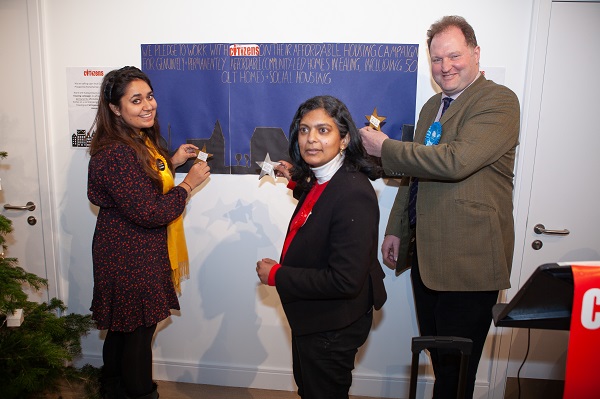 In a rare moment of unity three of Ealing's parliamentary candidates have joined together to pledge their support for affordable housing.
Candidates for Ealing Central and Acton, Rupa Huq, Labour, Julian Gallant, Conservatives, Sonul Badiani, Liberal Democrats are backing a campaign led by Ealing Citizens to see Community Land Trusts built in their borough.
This comes after years of affordable housing campaigning from Ealing Citizens.

For 3 years, members of local faith and community institutions have worked together building relationships with the council and developed a plan to deliver 50 genuinely, permanently affordable homes on a site in central Ealing.

In 2018, at a local election housing assembly, leader of Ealing Council Cllr Julian Bell committed to work with Ealing Citizens to build 50 Community Land Trust homes in central Ealing. Since then Ealing Citizens have been working with the Council to identify a site. Ealing council are now reported to be close to providing a central Ealing site for the homes.
Ealing leaders held a candle lit advent procession from the church of Christ the Saviour, Ealing Broadway to St Barnabas Church, in Pitshanger.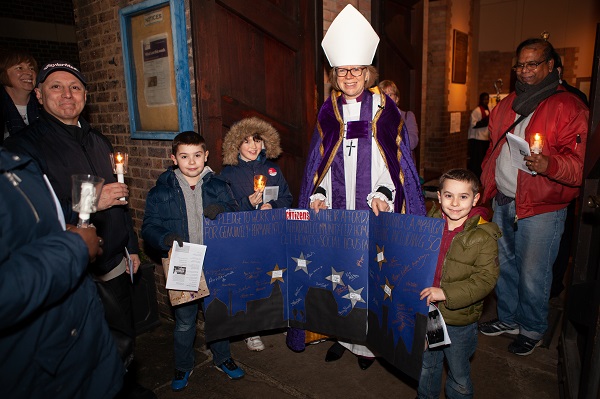 The candle lit procession from Christ the Saviour to St Barnabas Church was followed by a celebration where many local churches, faith institutions and other local dignitaries gathered for an Advent Service lead by the Bishop of London, Sarah Mullaly. Bishop Sarah preached about the commitment of local faith communities to social justice and celebrated the work that has been done in Ealing.

Jackie Ashmenall from Christ the Saviour, Ealing Broadway said, "Time and time again we hear of families having to leave their communities, struggle with squalid living conditions and chronic overcrowding. Poor housing is bad for families and bad for society. At our Housing Assembly, Cllr Julian Bell listened and responded positively to our asks; we want to thank him for that and keep working with Ealing Council to make sure they put their pledges into action. Through this work we have also seen the importance of central government funding. An increase in this funding would help build affordable homes and social housing that keep families together, children in local schools, nurses in our hospitals, and relieve the financial pressures of life in a city with a housing crisis."
Fr Justin Dodd, Parish Priest at St Barnabas, Pitshanger said: "As a local parish priest, I am aware of the impact of the housing crisis on communities across Ealing. People are moving away because they can't afford the price of local properties. Adult children are still at home with parents, when they should be making homes of their own. For communities to flourish, people need to be able to put down roots and have real homes. I'm hopeful that Community Land Trusts will deliver a model of home ownership that is genuinely and permanently affordable. The Council have made significant pledges to tackle the housing affordability crisis in Ealing. We look forward to working alongside them".

Lianna Etkind, Campaigns Manager at London Community Land Trust, said: " Today's action shows that Londoners are not victims of the housing crisis - we are part of the solution. Increasingly, councils are recognising that supporting Community Land Trust homes, priced according to what local people actually earn, ensures that there IS room at the inn for the nurses, teachers, charity workers and small business owners who call London home".

Cllr. Peter Mason Cabinet Member for Housing, said: "The work of Ealing Citizens in campaigning for, and hold Ealing Council accountable for our pledges on genuinely affordable housing has been both inspiring and key in keeping such an important issue on our agenda".
Prospective Parliamentary Candidates for Ealing Central and Acton are

The Brexit Party Samir Alsoodani
Liberal Democrat Sonul Badiani
Green Kate Crossland
Conservative Julian Gallant
Labour Rupa Huq
11 December 2019