As work on the Filmworks site is made public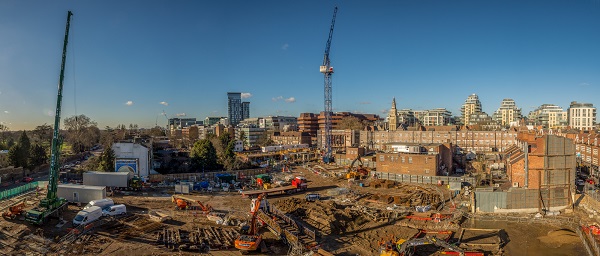 ( photo credit: Roger Green)
It's been a long time coming but there's now more than a glimmer of hope that Ealing will get its cinema ...and this decade.
This month (January 2019) construction work began in earnest on the £100m Filmworks scheme that will transform the centre of Ealing.
The St George development forms what Ealing Council has designated a Cultural Quarter and is expected to be completed during 2021.

There will also be a Picturehouse cinema, long awaited by local residents whose last remaining screen, the Empire closed in 2008.
The Filmworks scheme will preserve the Empire's 1934 quasi-Egyptian art deco facade and will include 200 'contemporary' apartments, as well as a central piazza, surrounded shops, restaurants and bars.
Previously there have been high barricades around the site and not a lot appeared to be going on but the above photo (contributed) now shows the full scale of the development and the work in progress and has brought a new sense of optimism that Ealing will once again have a cinema.
30 January 2019