Compulsory Purchase Order approved - but Empire may appeal
The saga of Ealing Cinema has been the longest running in town but is now (hopefully) heading to the final scene.
The Secretary of State has approved Ealing Council's application for a Compulsory Purchase Order of the derelict site - making way for total redevelopment of the area - to include a new cinema.
Council Leader, Julian Bell, made the announcement at Full Council last night and immediately tweeted the news.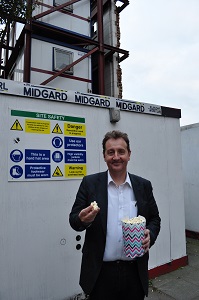 Today he said:
"Bringing a cinema back to Ealing is the news that everyone has been waiting for. It is a fantastic opportunity that will see a large part of Ealing town centre revitalised with a vibrant cultural quarter, more jobs, new homes and more visitors.

"We were determined to breathe new life back into the site of the former cinema which has been derelict for far too long. Given Ealing Film Studios' world famous reputation it is fitting that we build on the area's proud film heritage by bringing a cinema back home.

"Ealing is west London's fastest growing economy and while we would have preferred not to have needed to make a CPO we simply could not stand back and allow the area to miss out on the benefits that such a development will bring."
The former UGC closed to the public in September 2008 and was demolished in February 2009 (apart from the frontage). Empire originally had plans for a 16 screen cinema but building work never started.
Seven years on and it's still just a facade held up by scaffolding. Despite numerous promises and reassurances Empire did not recommence the development.
Last year, Ealing Council applied for a Compulsory Purchase Order of the whole site and after a full inquiry held at Ealing Town Hall approval has been given.
The Council want to press ahead with an ambitious Land Securities project for the area - of which the cinema would be one part.
Land Securities 'Ealing Filmworks' plans include 161 flats, shops, restaurants as well as an eight screen cinema.
The current frontage on New Broadway would be the entrance to the new development - the actual cinema would be sited elsewhere on the site.
According to Land Securities before they submitted the planning application they consulted the public and received over 90% support for their plans from local residents.
Land Securities Development Director Jonathan Levy, said:
"We welcome the Secretary of State's decision to confirm the Compulsory Purchase Order for the former Ealing cinema site and surrounding land, enabling Ealing Council to use its powers to acquire the land needed to deliver Ealing Filmworks and bring the long-awaited cinema back to Ealing.

"The decision is crucial in allowing us to deliver a comprehensive film quarter that connects Walpole Park with Bond Street and Ealing Broadway, creating a new public square, new shops, restaurants, homes and new jobs in Ealing town centre."
Work could start in the second half of 2016, a cinema may be back in Ealing by 2018.
We requested comment from Empire Cinemas and have just received this response:
"Although we have not received any official notification to date, we are aware informally of the reports that the CPO has been granted. Obviously this comes as a disappointment to Empire Cinemas, who fought the CPO to bring the local community a full cinema and leisure experience on the site, including IMAX, rather than the residential scheme that the Council have been promoting via Land Securities. Empire Cinemas is now considering its options including an appeal of the decision."
Any challenge to the validity of the CPO needs to be made within 6 weeks of the council publicising notice
14th October 2015