and the reality....
Related Links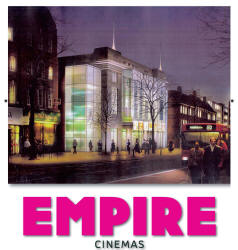 An impression of how the new cinema could look (above) and (below) the current situation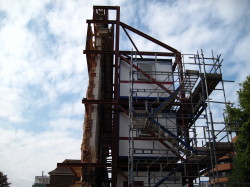 Participate
Sign up for our free newsletter
Comment on this story on the
It was granted planning approval five years ago but Ealing's new cinema is still no more than a facade held up by scaffolding.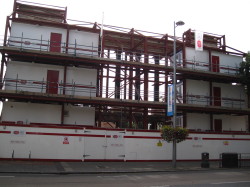 The former UGC closed to the public in September last year and was demolished in February 2009 (apart from the frontage) but building work on the new 16 screen cinema has still not started.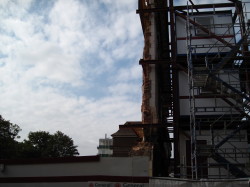 Ealing Today forum member Susan Kelly contacted Empire back in August and was told that building work would be started 'as soon as is practicable'.
Two months later the site remains the same.
Spokesman Jon Nutton told Ealing Today, '' The development is in progress. We are still awaiting the council to confirm a number of the conditions on the planning permission are satisfied. We hope to have a team on site shortly to complete the architectural survey required before work starts in earnest.''
Ealing Council says it has no further involvement in the project, so the delay remains a mystery.
The construction industry has undoubtedly taken a battering in the recession, a recent review by the Chartered Institute of Purchasing & Supply (Cips) found activity in this sector was still suffering as many firms continue to struggle to keep their heads above water.
Could the recession be to blame?
Empire cinemas remain tight lipped nevertheless Mr Nutton is optimistic. Although there is no firm start date for work to begin he remains hopeful the cinema will be complete by summer 2011.
Some Cinema History
Originally opened in 1934 as The Forum Cinema - built to the designs of John Stanley Beard who was also the architect for the Walpole Picture House in Bond Street (demolished in 1981 but the entrance arch survives on the side of the first house in Mattock Lane).
The classical style of the frontage was a reaction to the modernistic style often associated with Odeon cinemas of the period.
The opening film was "Love, Life & Laughter" starring Gracie Fields made in Ealing Studios.
Ealing Civic Society tried on several occasions to get the building listed but failed because its sister theatre in Kentish Town, also designed by John Stanley Beard, was already Grade II listed.
A condition of the demolition was that a full photographic record of its interior should be carried out (by the Museum of London). Some of the cinema's features such as panelled doors, handles and balustrades have been salvaged for reuse in the Kentish Town Forum where these have been lost over the years.
The cinema once had a Compton organ (manufactured in Park Royal) but this was moved to Wormwood Scrubs in the early 1960s and is believed still to be playable.
October 15, 2009