Traditional end of year family show from Questors this time it's Cinderella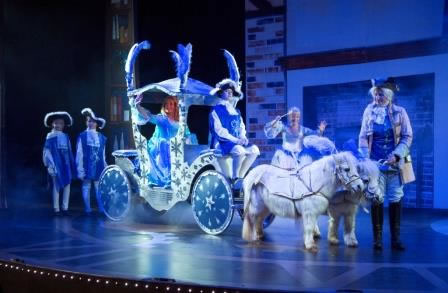 After the success of last year's Dick Whittington and his Cat, The Questors family pantomime returns to Ealing this Christmas, with the classic rag-to-riches story of Cinderella.

This brand new production features a cast of talented actors and singers, a chorus of local schoolchildren…and even two Shetland ponies, who will take Cinderella to the ball in style.

The 40 local schoolchildren are drawn from The Questors Youth Theatre. Split into groups of 20, they perform on alternate nights.

Cinderella is directed by Stephanie Pemberton, a Questors member with many years' experience of performing in and directing musicals.

Stephanie says: "Cinderella is the perfect Christmas show, where good triumphs over bad, and even the bad turns good in the end. It's been an absolute joy to direct, and hopefully our audiences will have another bit of magic to add sparkle to their Christmas."
With gorgeous costumes and a spectacular set, the show continues The Questors' tradition of presenting top-quality community theatre at affordable prices.

Packed with colourful characters, magical moments and soaring showtunes, Cinderella is the perfect Christmas treat for all the family.
Dates and times
December 15-17, 19-23 and 27-31 at 7pm. Matinees at 2.30pm on December 17, 18, 27, 31 and 2 January. Special 4pm matinee on New Year's Day.

Prices
Thursday 15 - Tuesday 20 December: Adult £15, Child £7, Family (2 adult + 2 under-16) £40

Wednesday 21 December - Monday 2 January: Adult £18, Child £9, Family (2 adult + 2 under-16) £48

Full details and online booking: www.questors.org.uk
Box Office: 020 8567 5184
14th December 2016