Claims that crackdown on littering is ' revenue generating exercise'
An Ealing man is warning commuters to be alert after being fined £80 for dropping a cigarette butt at Ealing Broadway Station.
Julian Beynon fell foul of Ealing Council's new pilot scheme to crackdown on littering last Tuesday when he was issued a fixed penalty notice (FPN) by Kingdom Security - a private firm operating on the council's behalf.
Mr Beynon says the agent appeared 'from nowhere' and he was shocked to not receive a warning but to be immediately issued with a £80 fine.
He says there had previously been cigarette butt bins next to the station but these have been removed and the nearest waste bins are at bus stops further along Haven Green, and across the road from the station.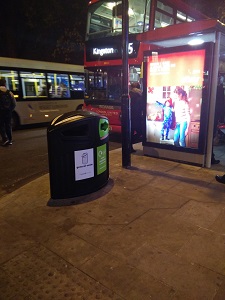 Closest bin to Ealing Broadway Station
He says: '' 'I do not deny the offence but always used to use the cigarette butt bin until it was removed from the station forecourt.
''When I asked the agent why there was no safe place for me to dispose of the butt he pointed out a bin that was not on the forecourt. It seems ironic that the Council can fine on national rail property but do not have the power to put a bin there.''
Since the trial began (23/09) Kingdom Security has issued 1139 fixed penalty notices in the borough, all for littering offences. Just over £91,000 of fines have been handed out. Kingdom take a percentage of this revenue ensuring the scheme doesn't cost the council.
However Mr Beynon believes the fine is an unfair revenue generating exercise and an abuse of the council's powers and has written to them to complain.
He wrote: '' If your aim was to effect behaviour change then you would have warned that you intended to enforce litter laws at the entrance to the station and emphasised that you had the power to do so. You would also have had conversations with GWR to provide a suitable receptacle to allow the safe disposable of cigarette butts at the entrance - not 30 feet away.''
It's not yet clear who was responsible for removing the former cigarette bins - or why - but Ealing Council is currently involved in major alterations to the forecourt of the station and we have asked them if this is part of the scheme (pdf). We await a response on this, however, Ealing Council have said that there are several other bins near the station.
Councillor Bassam Mahfouz, cabinet member for transport, environment and leisure, said:

"Despite the council spending £4.5million on keeping our streets clean, I often receive complaints from residents about litter. People overwhelmingly want the council to take action to stomp it out and I agree with them.
"I make no apology for fining people who litter our local area and saying there wasn't a bin nearby is no excuse. It is everyone's responsibility to make sure they dispose of their litter in the proper way and if they don't they should expect to be fined. The fact that most fixed penalty notices are being paid quickly and without dispute shows that the majority of those caught know they were in the wrong when they littered."
An Ealing Council spokesperson added: ''We cannot say how much, if any, money has been made from the enforcement action yet, but any surplus will be used to help keep the borough clean.''
12th November 2015