Campaigners warn changes ahead will see end to emergency services
Health campaigners say they believe the planned closure of a children's ward at Ealing is yet another nail in the coffin for the hospital.

The Paediatric Ward will shut in June and Save Our NHS say it will mean blue light ambulances carrying children would no longer attend Ealing hospital.
Sarah Boston, from Save Our NHS said specialist consultants won't be available:

''If they close our much needed paediatric ward, children needing emergency treatment would have to wait for assessment at Ealing, then wait to be taken elsewhere, then finally treated by paediatric consultants."
However, Mitchell Gadd, spokesperson from the London North West Healthcare NHS Trust ( Shaping a Healthier Future) said services throughout the borough will improve:
'' As part of the changes, we are also adding in new children's services to Ealing including starting a new clinic at Ealing Hospital which allows a GP to refer a child to a specialist within 48 hours and trialling a new service in Southall and Acton to provide more care closer to home.
''Only around 10 of Ealing Hospital's 16 inpatient beds are usually in use, and when the children's ward closes on 30 June 2016, children who require emergency treatment or an overnight stay in hospital will move from Ealing Hospital onto five other hospital sites in North West London, all of which will significantly expand their capacity.
'' This will be done through a mixture of either increasing their number of inpatient beds, increasing the size of their paediatric A&E units, having more senior doctors on site for longer hours, seven days per week, and/or having more paediatric nurses. The changes will also see new Paediatric Assessment Units in place at receiving hospital sites by autumn 2016 which means many children who have previously had to stay in hospital overnight will now be seen quicker and get home quicker.
"These changes will ensure that children receive consistently high quality seven-day care, with more specialist senior doctors available to treat children for longer times. This will improve quality of clinical care and patient experience in our hospitals, and get children back to health more quickly."
Health campaigners are sceptical and believe the latest planned closure is paving the way for the shutting down of all emergency services at Ealing Hospital.
Supported Oliver New said: ''Health chiefs are simply in denial about Ealing Hospital. They are playing with statistics. The specialist paediatric treatment that the CCG wants to take away from Ealing isn't really comparable with the outpatient treatments that would be left. They need to stop what they are doing and review the whole programme of cuts.''

Ealing Save Our NHS will be hosting a public meeting at Ealing Town Hall on Tuesday 2nd February (7.30pm)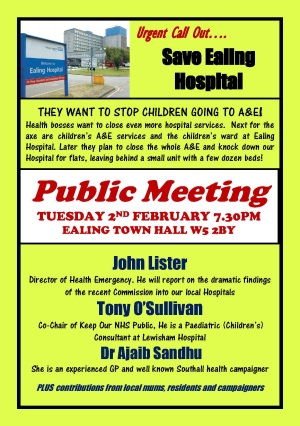 20th January 2016