NHS in NW London say controversial changes have brought improvements
A new report published just ahead of a major rally against hospital cuts claims controversial changes made to Ealing Hospital's children's services ' were 'made safely and resulted in improvements to care'.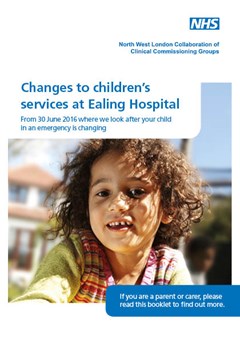 The report, published by the NHS in NW London, looked at changes to children's services over the past year following the introduction of a new way of caring for children and the move from six hospitals with children's wards to five.
The changes included the closure of the children's inpatient ward and children's A&E at Ealing Hospital and addition of significant extra capacity to other major hospital sites across NW London.
The report claims the closures were carried out safely and the key improvements for children were:
· Four new Paediatric Assessment Units (PAUs) opened which saw and treated almost 9,000 children.
· Over 90 more nurses specialising in children's care recruited, providing stable staffing and better care.
· The 41,000 children who visited A&E following the changes had access to a senior children's doctor until 10pm every day, which provides specialist care earlier in their treatment.
· The number of children who needed to be moved to a hospital outside of North West London for their care almost halved
· All five children's A&E departments in NW London have been refurbished or expanded.
Dr Abbas Khakoo, Medical Director, The Hillingdon Hospital NHS Foundation Trust and Clinical Lead for Paediatrics Programme, said: "We know that changing services is controversial but the NHS work very hard to make sure that children and their families get the best care possible when they really need it. One year on, we know that there are now more expert staff in place, for more hours, to look after the sickest children."
The GP-led urgent care centre at Ealing Hospital continues to be open 24/7 and treat the majority of children who need to be seen straight away.
Dr Mohini Parmar, Chair of Ealing CCG said: "This report shows that Ealing families should carry on bringing their children to the urgent care centre at Ealing Hospital and be confident that there is more specialist help on hand now across NW London if their child needs it. I would also remind residents that adults can continue to use Ealing Hospital's A&E as normal. "
The report also sets out key recommendations where further work is needed and where lessons should be shared with the wider NHS.
The report can be found online here: (http://www.ealingccg.nhs.uk/media/131855/06a-Paediatric-Transition-Review.pdf)
On September 30th a major rally will take place across Ealing to show opposition to plans to shut services including some at Ealing and Charing Cross hospitals.
September 20 2017