Celebrating 25 years in Ealing
Related Links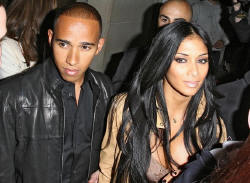 Celebrity diners, Lewis Hamilton and Nicole Sherzinger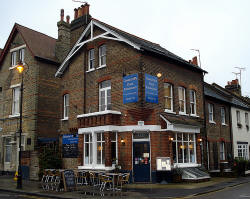 16 St Matthew's Road, Ealing, London W5 3JT | Tel: 020 8567 7541 | Email: Restaurant@charlottes.co.uk.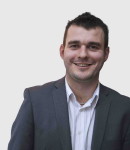 Owner Alex Wrentham
Participate
Sign up for our free newsletter
Comment on this story on the
You can count on one hand the number of top class restaurants in Ealing but ask anyone where they would go for a fine dining experience and you will hear the same two words - Charlotte's Place.
It's not just Ealing's secret anymore - last week staff were entertaining racing driver Lewis Hamilton , his girlfriend (Pussycat Doll) Nicole Sherzinger and their family.
Owner Alex Wrethman says the booking was in the name of Hamilton but nobody had suspected it was Lewis.
''It was only when a yellow lamborghini turned up we realised who it was.'' Alex laughs.
The Hamilton's aren't the only famous people to enjoy the delights of Charlottes's Place. Regulars include Amanda Redman, Dennis Waterman and England Cricket Captain and local resident, Andy Strauss.
But Charlotte's is more than a celeb spotting venue. Nestling comfortably amongst attractive town houses and overlooking the pretty Ealing Common, Charlotte's Place is a much loved fixture of the area and has been for a very long time.
25 years in fact.
Hard to believe but this cosy neighbourhood restaurant serving French and modern British cuisine is celebrating it's silver anniversary this month.
Charlotte and John Kearns opened their labour of love on a shoe string budget in November 1984. It was originally called Charlotte's Bistro but within a year the name was changed to Charlotte's Place and has remained so ever since.
In those days the dining rooms were adorned with frivolous and eclectic Victoriana and the kitchen turned out Charlotte's hearty home cooked fare.
Much has changed especially since Alex took over.
Alex (pictured) is an Ealing local whose first job was working in the kitchen at Charlotte's after school.
Although he has completely modernised the restaurant he was determined to keep the welcoming family feel of the place which inspired him to work in the business all those years ago.
Recent reviews for Charlotte's Place are glowing, Jon Stokes, who describes himself as 'a foodie', writes:
''The service was fantastic, such a warm friendly welcome. Sitting downstairs was a wonderful atmosphere in which to enjoy some truly fantastic food and wine. I would definitely recommend this place to anyone looking for a good meal out.''
Others say '' The food is excellent and the staff are very friendly, welcoming and extremely helpful.''
Never one to rest on his laurels Alex is now expanding the Charlotte's brand and next year will open a sister restaurant in Chiswick.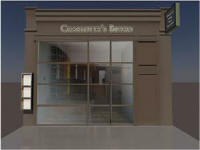 Alex says: "There will only ever be one Charlotte's Place, the Bistro is an opportunity to try something a little different."
Coming from the same stable as its Ealing relative however it's likely to be another success.
Charlotte's Place will be running a special menu later in the month to commemorate 25 years in business.
Although Charlotte has sadly passed away it's clear her legacy lives on.
November 4th, 2009