Petition set up after charity run organisers told it would cost £600
An Ealing woman who wants to set up a 5k run to raise funds for charity says she's appalled the council want to charge her to do so.
Cara Williams arranged the event at Elthorne Park last year for the Ealing MS Society but was told she would have to pay a fee of £550.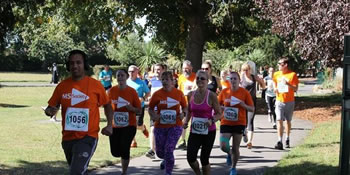 With the help of the local MP it was reduced to £50 but the council said this was a one off and future events would revert to the standard fee plus an admin charge of £50.
She says she had been hoped to make it a regular fundraising event but because of the charge this seems unlikely to happen. She says: '' This is not good enough. The Council claim to be supportive of charitable initiatives, and yet charge extortionate fees to voluntary organisations to do so.

''The Ealing MS Society is run by volunteers and all the money we raise goes to those that need it. We don't have the funds to pay for the 'privilege' of using a park – nor should we have to.''
She has now set up a petition calling on Ealing Council to provide public parks for charity and community events for free.
"Charity events are an important part of our community life and we are pleased to support them wherever possible, hosting more than 100 events in our parks each year.
Councillor Bassam Mahfouz, cabinet member for transport, environment and leisure said the charges are necessary:
"Although we offer massive discounts to charities, which pay less than half what we would charge a business, we do charge a small fee because these events can be attended by hundreds of people and we have to cover the extra costs we incur to ensure our parks and open spaces remain amongst the best in the country."
11th January 2017