100 year birthday for Violet and special medal for Jack
There was a double celebration at Walton House on Carlyle Road in South Ealing last Thursday (27th February).
Violet Oliver, a former trade union official, reached the fabulous age of 100 and enjoyed her special party with 20 residents, families and friends and invited guest Cllr David Millican.
Councillor Millican said: '' I've met Violet many times and she always has a good story to tell about her interesting life. She worked as a cook for BT, when they had offices in Ealing, and was a trade union official. I wish her well."
Violet enjoyed the event and there was a surprise for her good friend and neighbour, Jack Sturgeon.
Mr Sturgeon was presented with the Royal Marines Commandos medal from Cllr David Millican, for services during WWII from 1940-1946.
This was a surprise arranged by Walton House Residents Association (WHRA) and Jack's family, which took place after Violet's Birthday celebration.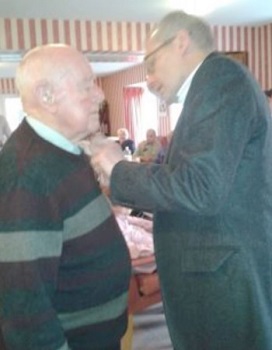 WHRA say it was a truly memorable, emotional and unique event in the calendar for everyone to remember and they thank everyone who took part and made it a success.
3rd March 2014