Films for March and April with a moving theme
Hit The Road
These are moving pictures: the epitome of road movies and buddy films, along with some acclaimed documentaries and animation. Featuring characters on the road, on the run, on tour or on the edge, they're on some stimulating and entertaining journeys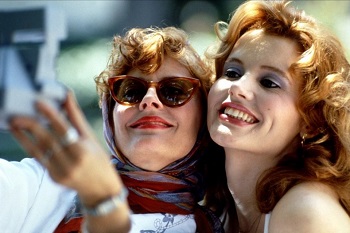 Friday 9th March 7pm start
Thelma & Louise 1991
124 minutes certificate 15 in English
Directed by Ridley Scott written by Callie Khouri
Starring Geena Davis, Susan Sarandon, Harvey Keitel, Michael Madsen, Brad Pitt, Christopher McDonald, Stephen Tobolowsky
Doors open 6:30pm
NOTE: FILM STARTS AT 7
In partnership with the Women's Equality Party Ealing
There will be a fundraiser with merchandise and refreshments.
Friday 16th March 7:30pm
The Gleaners & I – Les glaneurs et la glaneuse 2000
79 minutes certificate U in French with English subtitles
Directed by Agnès Varda
Friday 23rd March 7:30pm
The Adventures of Priscilla Queen of the Desert 1994
99 minutes certificate 15 in English
Directed by Stephan Elliott
Starring Terence Stamp, Hugo Weaving, Guy Pearce, Bill Hunter
Friday 6th April 7:30pm
My Darling Clementine 1946
97 minutes certificate U in English
Directed by John Ford
Starring Henry Fonda, Victor Mature, Walter Brennan, Linda Darnell, Cathy Downs, Tim Holt, Ward Bond, Jane Darwell
Friday 13th April 7:30pm
F For Fake 1973
85 minutes certificate PG in English
Directed by Orson Welles
Orson Welles plays host and unreliable narrator in this discursive documentary, where he wonders and wanders, while musing on matters of art, creativity, truth and reality. He opens cases of authenticity and authorship: hoaxes involving a bogus biography of Howard Hughes; forged Picasso paintings; and radio broadcasts of Martian invasions. Editing together existing footage, home-movies and staged scenes, Welles connects his career memories, buzzing ideas and some sleight of hand into inventive, playful cinema. One of his final completed projects as director, he called it "a new kind of film," while the BFI's Geoff Andrew says, "it's absolutely spellbinding."
Voted 15th Greatest Documentary of All Time in Sight and Sound's critics poll.
7:30pm
Black Girl – La noire de… 1966
59 minutes certificate 15 in French with English subtitles
Directed by Ousmane Sembène
Starring M'bissine Thérèse Diop, Anne-Marie Jelinck, Robert Fontaine, Momar Nar Sene
7
A young woman in Senegal works as a child-minder for a wealthy family, and then moves to France with her employers, where her living is degraded by overwork and seclusion, while she is demoralised by insults and indignities. This critique of racism, post-colonial tensions and cultural prejudice is a "human drama as well as a radical political statement – and one of the essential films of the 1960s." "One of the founding works of African cinema," this was the debut feature from the director called the "father of African film".
Winner of the Prix Jean Vigo in France.
Winner of the Grand Prize at the Carthage Film Festival.
Friday 27th April 7:30pm
The Illusionist – L'illusionniste 2010
77 minutes certificate PG in English
Directed by Sylvain Chomet
Voice acting by Jean-Claude Donda, Eilidh Rankin
CLASSIC CINEMA CLUB - EALING
info@classiccinemaclub.co.uk
074 1175 1965

classiccinemaclub.co.uk
Classic Cinema Club - bringing cinema back to Ealing!
7th March 2018