Films for the rest of December
Friday 9th December
PATHS OF GLORY 1957
88 minutes PG
directed by Stanley Kubrick
starring Kirk Douglas, Ralph Meeker, Adolphe Menjou, George Macready
In the fierce fray of a disastrous campaign during World War I, three French soldiers refuse to charge towards certain death, so face a court martial, accused of cowardice. Their colonel battles to defend them against the inhumanity of military generals, giving orders in comfort and safety far from the trenches.
Considered one of the best anti-war films, a theme Kubrick would return to throughout his career, this was made by Kirk Douglas's production company, and the director and actor would work together one more time, again casting him as a just and righteous man, a heroic figure as seen in many of his Hollywood roles.
Nominated for the BAFTA award for Best Film, and a success with European critics associations, winning the Grand Prix from Belgium, and Best Foreign Director from Italy and Finland.
Showing on Kirk Douglas's 100th birthday.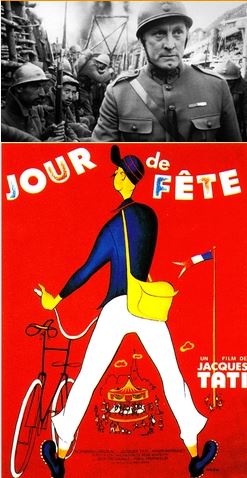 Friday 16th December
JOUR DE FETE 1949
79 minutes PG
directed by Jacques Tati
starring Jacques Tati, Guy Decomble, Paul Frankeur
A sociable but clumsy mailman does his rounds on his remarkable bicycle, as the usually tranquil village prepares for annual celebrations and the arrival of a travelling funfair and cinema, which just happens to screen a newsreel boasting of the ultra-efficient US postal service.
Before Tati embodied the more familiar Monsieur Hulot, he had great popularity with this letter carrier character. His first feature film sets up qualities consistent in his comedy career, including his interest in technology, modernisation and globalisation, use of slapstick sight gags and smart sound effects, and the conception, creation and choreography of a space peopled by loveable eccentrics.
Winner of Best Screenplay at the Venice Film Festival.
Showing in its colour version, as originally intended by Tati.
We are also showing 'Heureux Anniversaire' (1962), a BAFTA and Academy Award winner for Best Short Film, by clown and comic Pierre Etaix and writer Jean-Claude Carriere, about a man eager to meet with his wife for their anniversary, if the bizarre obstacles on the journey home don't stop him.


Looking forward to 2017:

Friday 6th January
THE DIVIDE 2015
74 minutes Certificate 12A
A film by Katharine Round
With a Q&A with executive producer Christopher Hird
What happens when the rich get richer?
The Divide tells the story of 7 individuals striving for a better life in the modern day US and UK - where the top 0.1% owns as much wealth as the bottom 90%. By plotting these tales together, we uncover how virtually every aspect of our lives is controlled by one factor: the size of the gap between rich and poor. This isn't based on real life. This is real life.
Wall Street psychologist Alden wants to make it to the top 1%; KFC worker Leah from Richmond, Virginia just wants to make it through the day; Glaswegian rapper Darren just wants to stay sober; Newcastle carer Rochelle wishes her job wasn't looked down on so much; Jen in Sacramento, California doesn't even talk to the neighbours in her upscale gated community – they've made it clear to her she isn't "their kind".
By weaving these stories with news archive from 1979 to the present day, The Divide creates a lyrical, psychological and tragi-comic picture of how economic division creates social division. It becomes clear that a higher income doesn't ensure happiness and inequality hurts us all – rich and poor. It serves as both a call to arms, and a powerful warning. The film is inspired by the critically-acclaimed, best-selling book "The Spirit Level" by Richard Wilkinson and Kate Pickett.
This documentary screening will be attended by the executive producer Christopher Hird, who will take part in a Questions & Answers discussion.
He is a leading figure in UK independent documentary making, and he says: "With opinion polls showing that over 80% of the population think that inequality is an important issue, Katharine Round's film could not be more timely. Without graphs and without didactic narration, the film shows the social, economic and psychological realities of living in an unequal world."

January TBD
I, DANIEL BLAKE 2016
100 minutes certificate 15
directed by Ken Loach
starring Dave Johns, Hayley Squires


Friday 10th February
Showing in partnership with the Ealing Music and Film Festival
SPIDER 2002
98 minutes certificate 15
directed by David Cronenberg
starring Ralph Fiennes, Miranda Richardson, Gabriel Byrne, Lynn Redgrave

Please note: our films can contain scenes of violence, sexual content, drug use and swearing. We recommend adult audiences but younger viewers may be accompanied by an adult.

BECOME A MEMBER of Classic Cinema Club
Receive a discount when attending screenings and also know you are helping to support an all volunteer film society in your local community.

Please ask if you have any questions about the benefits of membership.
___________________________________
You can now purchase memberships online on our website.
__________________________________
Please support Pitshanger Pictures, your neighbourhood cinema in, well... in PItshanger. They always have an amazing schedule of films and events and even food! And more importantly they help keep the film and cinematic spirit alive in our community.

Suggestions- Let us know what you think and what you would like to see. Email us, ring us, or write in the suggestion book available at the screenings.

Films are shown at Ealing Town Hall on Fridays at 7:30pm followed by a discussion about the film.

Tickets are £7 / £6 concessions and available at the door and online. Membership prices cheaper!

We are an all volunteer organisation, members of your community. We would love to have your help and/or for any volunteer assistance you may like to contribute.

Your friends @ CCCE

CLASSIC CINEMA CLUB - EALING
classiccinemaclub@hotmail.co.uk
074 1175 1965

classiccinemaclub.co.uk
Classic Cinema Club - bringing the cinema back to Ealing!

5th December 2016