Local RSPCA having to deal with more cases
Related Links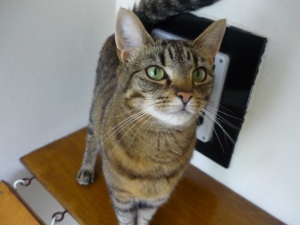 Rapunzel, a beautiful adult tabby cat, has been at the centre for over a year. She is still a little wary of people and would suit a patient and understanding owner who can help her develop into a loving pet
Participate
Sign up for our free newsletter
Comment on this story on the
A local pet charity says callous pet owners are dumping increasing numbers of cats.
Seventeen moggies were left at the RSPCA's Southall Cattery in Norwood Green in July, including a Siamese cat and her kittens.
Centre manager Beverly Leavy said the animals are often left in boxes at the gate but sometimes people resort to more devious methods.
She said: "One man even came into our veterinary clinic, asked someone to
watch his cat while he went to the toilet and never came back."Mrs Leavy said that, although the number of strays has gone up since the beginning of the recession, the financial crisis is not completely to blame.
She said: "The increase did start with the recession but I think for some people that's just an excuse not to bother with their pets anymore.
"Of course there are some real hardship cases, where people really can't afford to look after their animals, but most of us can afford a tin of cat food."
Mrs Leavy said many pet owners do not understand how important it is to neuter their cats so they are not burdened with unwanted kittens.
She said "Animals only breed to make sure their species survives, they do not continue to love their young once they have grown up.
"Cats only care for their kittens for a few weeks and after that they no longer want to know them. So it is kinder to make sure that they don't breed in the first place."
The cattery is holding a fair and open day for the public on Saturday 07 September to raise money for the work it does to help and rehome strays.
There will be children's activities, including face painting, and stalls selling greetings cards and original paintings by local artists, bric-a-brac, cakes, soft toys and books.
Visitors will also be able to view the many cats and kittens looking for loving homes.
The open day at the cattery, in Burket Close, will be held from 11am-3pm. Entry fee is 50p or a tin of cat food.
Between January and July this year the cattery took in 315 moggies and so far has found homes for 248 of them.
The centre currently has over 100 animals, many of them kittens which tend to be born during warmer weather.
Loving homes are desperately needed for the many cats at the centre and anyone interested in adopting a moggie can visit between 11am-4.30pm on any day except Wednesday.
The cattery can also be contacted on 0300 1230746
August 27th 2013