Local writer's love of chocolate bags her top prize
Related Links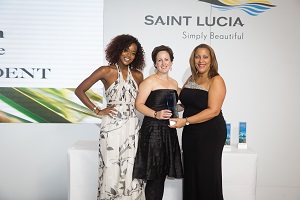 From L-R: Hostess, Annaliese Dayes (Britain's Next Top Model fame) with Cathy Winston, freelance journalist for The independent and winner of Saint Lucia Travel Writer of the Year 2014 and Tracey Warner-Arnold, Deputy Director of Tourism, Saint Lucia Tourist Board
Participate
Sign up for our free newsletter
Comment on this story on the
An Ealing woman has won a top award for writing about chocolate in the Caribbean.
Cathy Winston, from Ealing Common, visited St Lucia in May and focussed on the history and the present state of the chocolate industry on the Island.
It was published in The Independent newspaper.
Ms Winston, a mum to one, writes for newspapers and magazines and has her own travel blog www.mummytravels.com.
She was awarded 'Saint Lucia Travel Writer of the Year' by the Island's tourist board and says she's delighted:
'' St Lucia is such a beautiful place. Warm and welcoming, it has the white sand and palm trees you expect from the Caribbean but a lot more, including historic cacao plantations and the world's only drive-in volcano up in the Soufriere hills. Eating chocolate on a tropical island, all in the name of research, was easily one of my best days at work so it was wonderful to discover the piece I'd written had been chosen for an award.''
The event was held at The Grove 5 Star Hotel & Resort in Hertfordshire and hosted by model Annaliese Dayes of Britain's Next Top Model fame. Special guest entertainment was provided by The Voice winner, Jermain Jackman.
23rd September 2015