Inspiring local runner Catherine Gunnerwicht completed the Paris Marathon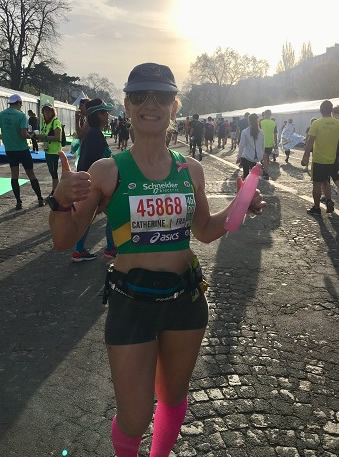 On Sunday I ran Schneider Electric Marathon de Paris in 4:40:06.

This marathon was a milestone for me because I signed up to it one week after being diagnosed with breast cancer last year. It was my way of winning and something I had to do. The road has been very very tough.The cancer, the treatment, the injuries... Yet I have had so much support from the outset from friends and family and finally got there.
It was wonderful to be in Paris with fellow runners from my club, ESM, some running and some supporting. It was never going to be a PB type race for me and my time was way out from my first marathon the previous year. But I was determined to get round. The way I got round was by "Jeffing" it. This is a run/walk/run method of achieving long distances named after Jeff Galloway who has written about this approach. Well Jeffing worked for me.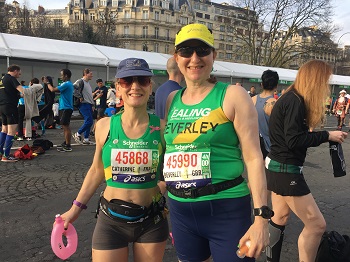 My friend Beverley had signed up to Paris to run with me and suport me. Beverley and I had a plan to run 5 mins and walk 1.30mins. We stuck to this regime throughout and it got us round. We had to be very disciplined to stick to the times, especially at the beginning when we were walking on fresh legs and that went against the grain. But the plan worked and we achieved a not too shabby time.
It was a wonderful experience despite the heat on the day and my little achievement after a terrible past year.
I am now raising funds for Breast Cancer Haven and am selling raffle tickets with amazing prizes including meals at Côte, Bills, Charlottes W5, Foresters, Kings Arms, New Inn, classes from Tribecca, a facial, a massage and lots of arty prizes from local artists and many many more. Please email me to buy raffle tickets: C.gunnewicht@hotmail.co.uk
Catherine Gunnerwicht
10 April 2018