34-year- old man has died another man injured
Two men have been charged with murder after a fire at a car workshop in Southall.
Jakub Ostrowski, 36 of Harvard Road, Isleworth and; Mariusz Florowski, 38 of Hick avenue Greenford, will appear in custody at Ealing Magistrates' Court on Monday, 25 February accused of killing 34-year-old Benedykt Nowak in Dilloway Industrial Estate, The Green, Southall on Friday, 22 February.
Both are also charged with the attempted murder of a 26-year-old man also injured in a fire at the premises.
Ten fire engines and 72 firefighters and officers were called to the single storey car workshop on Friday night.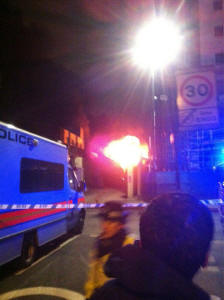 picture via twitter from Tej Gill @F1TEJ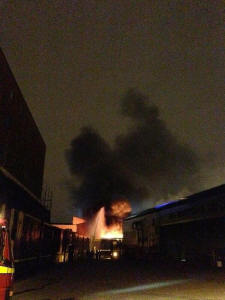 picture via twitter from Avnish76 London_Kopite
The whole of the workshop was destroyed by the blaze. Gas cylinders were reported inside the building. As some cylinders can explode when exposed to heat a hazard zone was set up and a number of people evacuated as a precaution.
The Brigade was called at 2114 and the fire was under control by 2357.
25th February 2013