Two people injured and a number of people were evacuated
Two people have been taken to hospital aftetr a fire at a workshop in Southall on Friday night (22nd February).
Ten fire engines and 72 firefighters and officers were called to the single storey car workshop on The Green in Southall.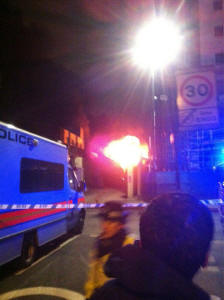 picture via twitter from Tej Gill @F1TEJ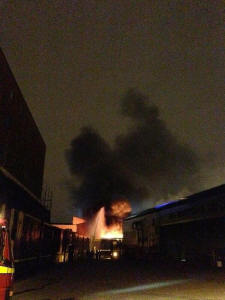 picture via twitter from Avnish76 London_Kopite
The whole of the workshop was destroyed by the blaze. Two people from the workshop were taken to hospital.
Gas cylinders were reported inside the building.
As some cylinders can explode when exposed to heat a hazard zone was set up and a number of people evacuated as a precaution.
The Brigade was called at 2114 and the fire was under control by 2357.
The cause of the fire is under investigation.
24th February 2013