Man allegedly 'glassed' by woman at Carthage
Carthage Restaurant and Bar in Hanwell has been shut after violence last Thursday (27th June).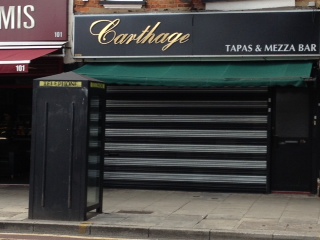 Police were called to the premises on 99 Uxbridge Road, W7 at 23.43pm after reports that a man had been assaulted.
It's alleged a woman customer threw a glass at the man resulting in a gash to his forehead.
First aid and the services of ambulance officers were refused.
A 21-year-old woman was arrested and taken to a west London police station. She's been bailed to return to the police station at the end of July.
After an emergency licence review by Police on Tuesday (2 July) the licence was suspended due to serious crime associated with the venue.
A full review will take place within 28 days.
Residents and other authorities are entitled to make representations directly to the London Borough of Ealing Licencing Team.
3rd July 2013