Viv Ellis goes shopping with Hanwell royalty
At last there's a place for flat-broke fashionistas in Hanwell to shop on the doorstep for a bargain. Opened in March, the Accession Community Shop in Boston Road, was set up by Ealing Council & West London Mental Health Trust.
It's more than a charity shop. Yes, it sells clothes and furniture but it also offers training, employment advice and volunteering opportunities for people with learning difficulties or disabilities.
Manager Sally Penycate says " We are doing a roaring trade in women's clothes, bric a brac and furniture, we're really pleased"
With Hanwell's Carnival fast approaching (Saturday June 16th) I took the new Carnival Queen and Princess: 20 year-old Rosie White and 16 year-old Julia Schilli-Somjen for a browse.
On the big day, they'll be resplendent in specially-made outfits and sparkly tiaras. - but what are their fashion and bargain-hunting skills like?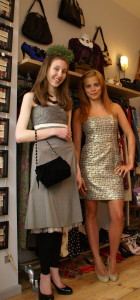 Outfit 1 Julia (left) Dress £5, bag £4, Necklace £4 Rosie dress £8 "It's brilliant, I'll definitely be coming in here again" Shoes £6.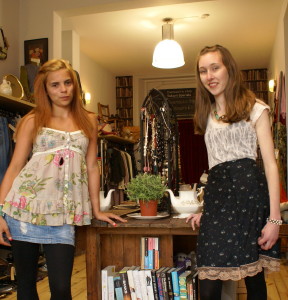 Rosie (left) top & skirt £3 each Julia: top £4 skirt £3
16th May 2012