Demonstration night at Carluccio's
Related Links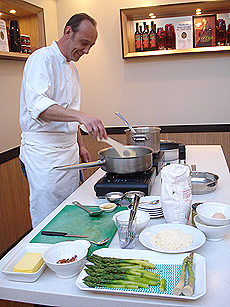 Risotto demonstration at Carluccio's
Carluccio's Caffé, 5-6 The Green, Ealing W5 5DA T: 020 8566 4458 www.carluccios.com
There's still just enough time to take part in a risotto demo
Participate
Sign up for our free newsletter
Comment on this story on the
Risotto - it has to be said - is not universally loved. I have heard it described at various times as bland, boring and (by one anti-risotto friend) ' expensive sloppy rice'.
Despite it being a relatively simple dish it's very easy to make mistakes and I have made plenty. Too stodgy, too liquidy, tasteless or too salty, the perfect risotto has always eluded me.
So, heading to the demonstration evening at Carluccio's in Ealing, I was determined to learn the tricks of the trade from those who have the know-how.
Executive chef Eric Chauvet,, originally from France, ably assisted by Libby Andreopoulos – Area Retail Manager.
took us through the process of making an asparagus risotto - it being asparagus season.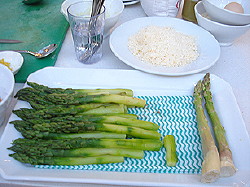 They also answered a variety of questions from the 15 or so eager Ealing foodie throng.
Did you know that there are around 340 different types of rice? Or that bleach and talcum powder is used to make rice white? Of course none of that is used here.
Italian rice is Carluccio's recommendation - Carnaroli for a light risotto and Vialone nano for a thicker dish.
As crucial as it is to get the rice right - it's the stock that provides the taste. Eric stressed that it should match the ingredients, for example a chicken risotto should have a chicken stock.
It musn't be too salty either - as it heats it will reduce and strengthen in flavour. The stock must always be boiling and added ladle by ladle so it can absorbed.
We all got to try the risotto in its various stages and I soon realised the dish is really rather individual and very much based on the preference of the cook.
In all honesty I found Eric's risotto too salty, but did seem to be in the minority - perhaps I have a more sensitive palate than most?
The key when making the dish is to do as the real chefs do - keep tasting - by doing so you can always modify the seasoning.
This informative and rather fun evening ended with us tasting the delicious Carluccio specialty of arancini (filled rice balls) and being given a goody bag with ingredients and instructions to make our own risotto.
I shall be trying it very soon and will let you know how it turns out - and whether I have any success in converting my risotto hating friend!
Do you have any recipes- risotto or otherwise you would like to share?
Send them to editor@ealingtoday.co.uk
April 24th, 2010