Car driver loses control crashing into two houses in W7
A woman had a lucky escape after a car - which was being pursued by police - crashed into her house in Hanwell.
The incident happened on St Margarets Road around midnight on Sunday 27th January.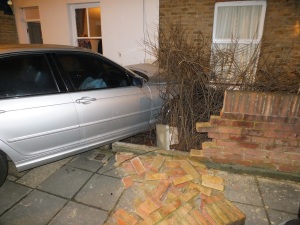 Witnesses say they heard the car being driven at speed down St Dunstans Road. It was being followed by a number of police cars and the driver is believed to have lost control when trying to turn right. The car ploughed into two houses, knocking down a wall and smashing into the windows.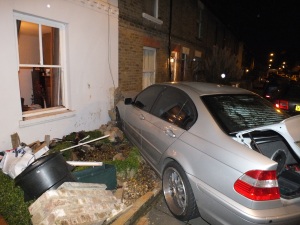 Local resident Alastair Mitton, arrived at the scene shortly after the incident. He says the residents were very shaken - especially the young woman who had been sitting in her front room at the time.
Witnesses told him that the driver had attempted to make a getaway by running down an alley and jumping into the nearby canal.
Alastair says: '' He then found he was unable to get out of the canal as it was fenced off. It appears he swam around for a short while but soon realised that escape was not an option at which point he swam back to the awaiting police officers who hauled him out. He had suffered cuts and bruises and was taken off to the hospital.''
Local ward councillor Nigel Bakhai says it was a miracle nobody was killed:
''These roads are very narrow with cars on both sides and very difficult to get down. It's extremely dangerous to have a high speed chase - especially at night. I will be expressing my concerns at the local police panel and with the borough commander.''
Police have confiirmed that one man has been arrested - we are awaiting further information and will update as soon as it arrives.
29th January 2013