Kavah and Brothers Kebab told to clean up
Related Links
Cockroach in glass at Kavah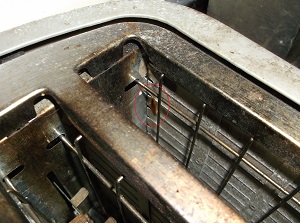 Cockroach in toaster at Kavah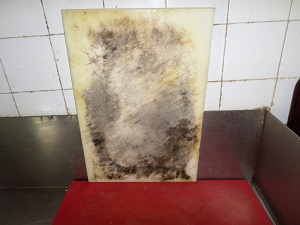 Dirty chopping board at Brothers Kebab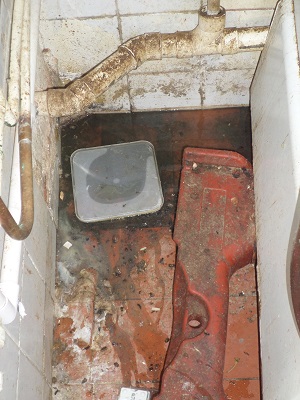 Rat faeces on the floor at Brothers Kebab
Participate
Sign up for our free newsletter
Comment on this story on the
A café where an assistant allegedly crushed a live cockroach on the counter in front of a horrified customer has been banned from serving food by Ealing Council until it cleans up its act.

Kavah Café at 73 New Broadway, Ealing was inspected on 28 August after the customer complained to the council's food safety team.

The inspection uncovered live cockroaches in a glass, a toaster and in cupboards; along with mouse faeces on work surfaces and cupboards. There was also no hot water on the premises, so staff could not properly wash their hands or equipment.

Kavah Café was issued with a Hygiene Emergency Prohibition Notice for its immediate closure as a food business – however it can still operate as a shisha lounge and internet café – until Ealing Council is satisfied that the imminent risk to health has been removed.

Kavah Café's operators, Trishan (London) Limited were also ordered by Ealing Magistrate's Court to pay £580.91 towards Ealing Council's legal costs.

Ealing's inspectors visited Brothers Kebab restaurant at 178 South Ealing Road on 22 August at the request of the police and discovered rat droppings in the kitchen food preparation areas; dirty conditions throughout the premises and a large hole in the kitchen ceiling.

The business was forced to close down until work was completed to remove the risk to health and it only re-opened on 26 August after inspectors made a return examination and were satisfied it was safe.

The owners of Brothers Kebab, Gorur Limited, were also ordered by the court to pay £638.96 towards Ealing Council's legal costs.

Ealing's deputy leader and cabinet member for community services and safety, Councillor Ranjit Dheer said: "Imagine going out for a coffee and seeing a cockroach scurrying across the counter. I don't know what's more shocking, that or the casual way the member of staff at Kavah Café reacted to it!

"Cases like this and the rat infestation and poor state of repair at Brothers Kebab restaurant really show what the consequences of poor hygiene are.

"I am really glad that the court agreed with our inspectors' findings, and I hope these cases send out a clear message to all Ealing food businesses that we will not tolerate poor hygiene or inferior safety standards and we will always use our enforcement powers to bring business owners to account through the legal system."

Residents are urged to check the food hygiene rating of local businesses at www.food.gov.uk. Anyone concerned that a business is breaching food hygiene regulations should email foodsafety@ealing.gov.uk or call 020 8825 6666.


10th September 2014