Treasury minister listens to local concerns
Related Links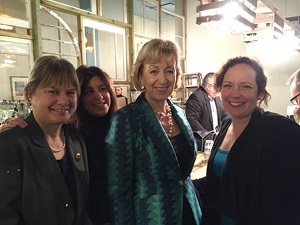 Angie Bray MP, Shelley Henderson, Andrea Leadsom MP and Erin Thomas-Wong
Participate
Sign up for our free newsletter
Comment on this story on the m
A pair of entrepreneurial mums from Ealing have been telling the Government how they believe more small businesses can be helped.
The Economic Secretary to the Treasury, Andrea Leadsom MP, visited Ealing to discuss small business finance with Ealing Mums in Business, a local firm supporting new start-ups.
Amongst the items under discussion were start-up loans, childcare vouchers and bank charges.
Shelley Henderson and Erin Thomas-Wong, co-founders of Ealing Mums in Business, were keen to explore ways of making information about loans and grants more easily available so members of their group could better understand what support is available.
They said: "Huge thanks to Treasury Minister Andrea Leadsom MP for coming to speak to our Members this afternoon about financial issues for small businesses."
"It was a great discussion and we look forward to hearing more about how the government can help us.''
The forum was set up by local MP Angie Bray (Ealing Central & Acton) and hosted in Artisan Coffee on Ealing Broadway.
28th January 2015